Almost every year, dispute arises as to the extension of non-audited Income Tax Return filing due date and consequent extension of audited Income Tax Return filing due date also. Many professional consultants' associations across the nation make representations to the government every year for this matter, although it's a different matter that it's a primary duty of business / trade associations to make such representations.
Following table shows the extended dates for some of the previous years.
But why such extensions are needed every year? And what is the possible solution to this permanent controversy?
Section 139(1) says that the non-audited case ITRs are to be filed latest by 31st July of relevant assessment year. And assessment year starts form 1st April. So, intention of the parliament while enacting this provision can be said as – the person should get the time of 4 months (From 1st April to 31St July). But the million-dollar question is – "are the all ITR filing utilities and schemas made available on 1st April every year?"
Further, the last date of filing TDS return for quarter 4 of relevant financial year is specified as 31st May following that quarter end. So, effect in Form no. 26AS arrives nearly by 10th of June each year.
Further, from AY 2021-22, AIS and TIS are issued by the income tax department. So, matching the data with these two reports has become one more time-consuming task.  Most of the data in AIS and TIS comes from Statement of Financial Transaction (SFT) filed by various entities. And the last date of filing such SFT is 31st May immediately following the financial year in which the transaction is registered or recorded.
So, practically the person who wants to file the return efficiently can get the Form 26AS, AIS and TIS nearly by 15th June.  And such person remains with only 1.5 months' time to file the return of income. So, it is very natural that time extension is expected by the common people.
Now, suppose, even the time is extended for such cases, that time is actually taken from the remaining 3 months' time frame available for filing ITRs of audited cases.
So, the income tax department might be of the opinion as under.
1. Person files his return on its own without taking help of tax professionals. Means common man is so expert in ITR filing matter.
2. Persons are fully aware about all their financial transactions and make their accounting also and the person does not need to tally its data with the data mentioned in Form no. 26AS, AIS and TIS.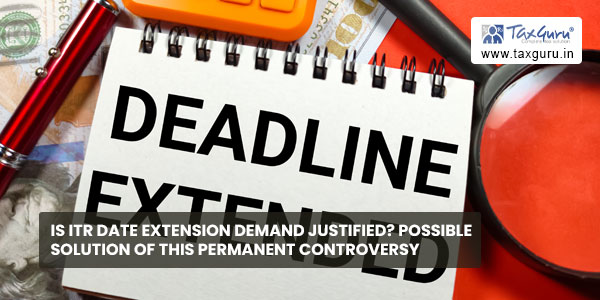 3. Tax professionals are magicians which can file any number of ITRs within this very short period of 1.5 months. And they can work for 24 hours constantly during this period of 1.5 months.
4. Out of 4 months' time envisaged by the Act (1st April to 31st July) to file the return, income tax department deserves to have first 2.5 months available for itself and remaining 1.5 months' time is more than enough for the taxpayers to file the returns of income.
God knows who is correct and who is incorrect in demanding such time extension or in rejecting such time extension in this matter, but following are the possible solutions of this permanent controversy.
1. Introduction of clause in the Income Tax Act itself which provides for issuance of all ITR filing utilities as on 31st March itself and non-compliance of that must result into automatic extension of due date by that latency period.
2. If a person can make calculation of TDS by 30th April (7th April for TCS) and can pay it by that date, why can't that person file a TDS/TCS return by 7th May? So, the due date of filing TDS/TCS return of the 4th quarter must be reduced to 7th May immediately following that quarter.
3. Last date of filing SFT must also be reduced to 30th April or 7th May immediately following the end of that financial year.
4. Form No. 26AS, AIS and TIS must be updated and made smoothly available on the portal latest by 15th May.
5. To encourage the early filing some incentives can also be given by the government to early birds. For example, 2% instead of 4% education cess for those persons who file the return of income by 30th June.
If government open heartedly wants to implement its Minimum Government Maximum Governance slogan, then above are some of the suggestions to be implemented first in this matter. It must not forget that one of canon out of the four canons of taxations is the canon of convenience.
****
Tejas K. Andharia | B.COM, F.C.A., D.I.S.A.(ICAI), D.I.R.M.(ICAI) | Bhavnagar, Gujarat