16,284 Views
Fill GST ITC-04 using Offline Tool
Details of inputs or capital goods sent and received back from the job worker need to be furnished by the taxpayers on a quarterly basis, in Form GST ITC-04. For preparing and uploading this statement, an excel offline tool has been made available on GST Portal. This offline tool can be ac­cessed at "Download" section of GST portal.
The ITC-04 can be filled only using this Offline tool. Please fill data in excel offline tool, create json and then upload using `Prepare Offline' button on GST portal (Return>ITC Forms>ITC04).
After successful uploading, use the other button 'Initiate filing' to sign and file the statement using DSC or EVC, as applicable.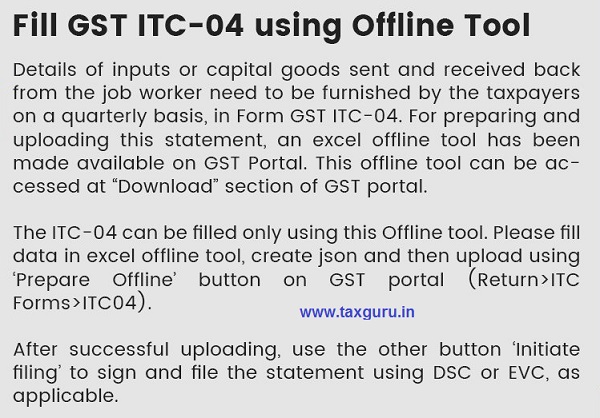 Join Taxguru's Network for Latest updates on Income Tax, GST, Company Law, Corporate Laws and other related subjects.
Join Taxguru Group on Telegram
TELEGRAM GROUP LINK