Securities and Exchange Board of India
Report submitted by Alternative Investment Policy Advisory Committee
1. To solicit the comments/views from public on suggestions pertaining to the third report submitted by Alternative Investment Policy Advisory Committee.
Background:
2. SEBI had constituted a standing committee 'Alternative Investment Policy Advisory Committee' (AIPAC) under chairmanship of Shri. N. R. Narayana Murthy in March 2015. AIPAC has submitted its third report to SEBI with various recommendations stated therein.
Public Comments:
3. In order to take into consideration the views of various stakeholders, public comments are solicited on the said report as placed at Annexure. Comments may be emailed on or before February 19, 2018, to [email protected] or sent by post, to:-
Deputy General Manager
Division of Funds – I
Investment Management Department
Securities and Exchange Board of India
SEBI Bhavan
Plot No. C4-A, "G" Block,
Bandra Kurla Complex,
Bandra (East), Mumbai – 400 051
4. Comments/ suggestions may be provided in the format given below:
Name of entity / person / intermediary/ Organization
Sr. No.
Clause No.
Suggestions
Rationale
Issued on: January 19, 2018
The Alternative Investment Policy

Advisory Committee
Third Report
26th November, 2017
Table of Contents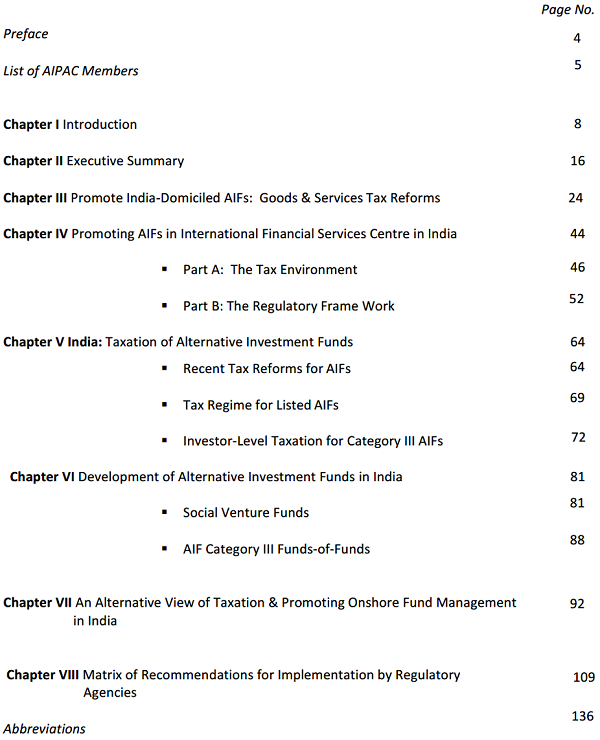 PREFACE
I am glad to note that the Government has implemented reform measures favourably affecting a large part of the Indian economy. It is widely accepted that the environment for business in India is improving. Various indicators show steady progress. Data from the Securities & Exchange Board of India(SEBI) shows that the number of Alternative Investment Funds (AIFs) has been rising each year, as have been the amounts invested by the AIFs. In addition, aggregate private equity and venture capital flows are touching record levels in India.
Reforms are a continuous process as the huge capital needs of India are a compelling force. I am happy that the Alternative Investment Policy Advisory Committee (AIPAC) has continued its work and addressed a wide range of reforms which are much needed.
This report covers reforms in a number of areas.
The taxation of SEBI- registered Category III Alternative Investment Funds has been analyzed. In recent years, the Government has done much to reform and institute pass-through taxation of Categories I and II AIFs. The Committee will highly appreciate if the taxation of AIFs in Category III can now be addressed given that the present trust-based taxation approach is complex and ambiguous.
The Government took positive steps to introduce a new GST regime this year. In addition, the Government has shown prudence and flexibility by introducing changes in the GST regime commensurate with the needs of businesses. The GST regime also impacts the establishment of domestic AIFs in India, particularly those with overseas investors. Accordingly, the Committee has analyzed the impact of GST on AIFs and has made a number of helpful reform suggestions aimed at attracting overseas investors.
Some of the previous recommendations have been the subject of discussion among Committee members and market participants at large. Taking this feedback into account, this report includes recommendations relating to the allocation of Corporate Social Responsibility (CSR) funds, created pursuant to the obligations under the Companies Act, 2013, to SEBI- regulated AIF Category I Social Venture Funds.
There has been a constant call to attract offshore fund managers (who invest in India, but operate from an offshore location), by encouraging them to shift their fund management and administration to India. In this context the Committee has made suggestions for a suitable tax and regulatory framework for the domiciliation of AIFs in International Financial Services Centers in India.
AIPAC members are open to further feedback and additional suggestions will be welcome.
I must thank the leadership and staff of SEBI which has played such a vital and helpful role in the work of AIPAC.
I sincerely thank all the AIPAC members and market participants who have made their invaluable contribution and burnt the midnight oil to prepare this in-depth report.
Thank you once again.
N.R. Narayana Murthy
Chairman
Alternative Investment Policy Advisory Committee