Now, the ITR Filing season is almost over and assesses are receiving Intimation U/s 143 (1) of Income Tax Act, 1961 related to their filed ITR. This time focus of the Income Tax Department is on the issuance of Income Tax Refund as soon as possible. And assesses who have claimed a refund in their ITR has received their refund. However, in some cases, their Refund has been processed by AO but the same is not credited in Assesses bank account due to some technical issues, which are as follows.
1. Non Linking of PAN Number with Bank Account Number
2. Closing of Bank Account which has been selected as Primary Account for Income Tax Refund
3. Wrong Filing of Bank and IFSC Details at time of ITR Filing
Above mentioned, are some common reasons for Refund Failure. When any refund is failed, then the Income Tax Department sent a mail to the mail id mentioned in ITR, describing the reason for refund failure. Assesse has to correct the error and has to file a refund re-issuance request. The procedure is described below:-
1. Visit – https://www.incometaxindiaefiling.gov.in/home and login into your Account

2. Go to my Account and view the E-Filed Return Status

3. Here, your ITR Processing status is shown, if your ITR is processed then proceed further, otherwise waits for ITR Processing

4. If your ITR is processed and Refund has been failed due to any reason then, the reason for such failure is described here. In this case, the reason for refund failure is the closure of the bank account, which has been selected for Refund at the time of ITR Filing.
5. If the error has been rectified by you, then you have to submit Service Request for Refund Reissuance
6. Here you have to submit your response, like in our case, we have to submit new Account detail for receiving Income Tax Refund
7. Here we have to pre-validate our bank details and if our details are pre-validated successfully our request will be accepted for further processing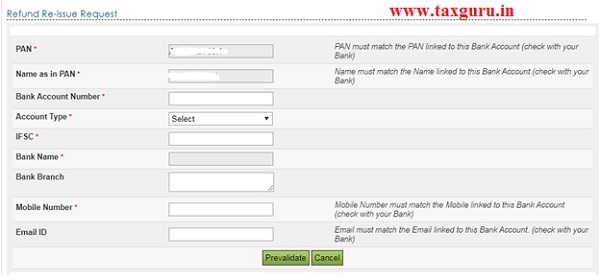 8. When we submit our request for Refund Reissuance Request a transaction ID Is issued which can be used for further tracking of Our Request.
9. Service Request Status can also be viewed through this option
After successful submission of Request, it normally takes 7-10 Days to further process your refund request.
This article is for the purpose of information and shall not be treated as solicitation in any manner and for any other purpose whatsoever. It shall not be used as legal opinion and not to be used for rendering any professional advice. This article is written on the basis of author's personal experience and provision applicable as on date of writing of this article. Adequate attention has been given to avoid any clerical/arithmetical error, however; if it still persist kindly intimate us to avoid such error for the benefits of other readers.
The Author can be reached at mail –shivsharma786@gmail.com and Mobile/Whatsapp – 9911303737/ 9716118384