Steps to convert JSON file into Excel format
Step-1 Login to GST Portal by using the below link https://services.gst.gov.in/services/login
Step-2 Go to return dashboard > select financial year & month and proceed
Step-3 In Auto drafted GSTR 2A tab > Click on download > Generate file
A message will be displayed
Your request for generation has been accepted kindly wait for 20 min.
Visit after 20 min and click on Download file-1 & file will be downloaded in JSON format.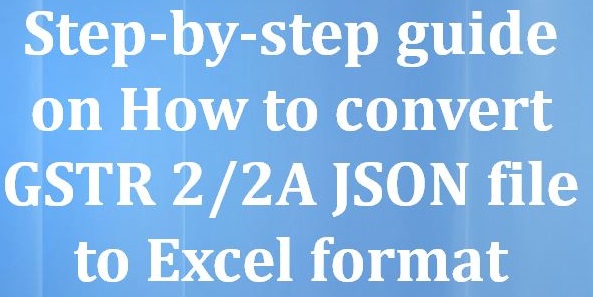 Alternatively JSON file of inward supplies can be downloaded from GSTR 2 also by clicking Prepare Offline TAB in GSTR 2
Step-4 Convert the JSON file to CSV Format by uploading your JSON file to the site. https://json-csv.com/   (Please note that by uploading your data here you are sharing your Data with this website and we do not know how this website uses such Data.) Also Check note at the end of article*
Step-5 Download the Converted CSV file
Step-6 Download the Offline Utility software of the JSON file converter to Excel using the below link
http://taxguru.in/wp-content/uploads/2017/10/GSTJSON2XLS-.zip
(It will work only above version of Microsoft Excel 2010 and above)
Step-7 Extract downloaded excel utility & Open the Excel file in the folder
Step-8 Press RESET ALL in the excel sheet before you proceed
Step-9 In Select Input Method, select Web input
Then on your left hand side of excel sheet JSON_Input Tab will be created
Step-10 Open the downloaded CSV file which was converted from JSON in https://jsoncsv.com/
Step-11 Copy and Paste the data in the CSV File in the tab JSON_Input in Excel Utility by using using CTRL+ALT+V ( Paste Special – Values )
Step-12 Then come back to Convert TAB in excel sheet next to JSON_Input file (Current TAB ) & Click on convert
Step-13 A Pop-up message will be displayed "Input Data is converted" press OK
Step-14 Now Click on Generate File, a Pop-up message will be displayed "EXCEL file is generated in Output folder" then click OK
Step-15 Open Offline Excel Utility & Open OUTPUT Folder
Step-16 Now converted JSON to Excel file will be available
Step-17 Open the Excel sheet & Apply V look up with Purchase register extracted from Accounting software.
*Please Note that now there is no need for above Excel utility as GSTIN in its latest Offline Software provided the facility to convert JSON file to Excel format. (Updated on 18.01.2017)