Summary of Fresh Start Process (Individual and Partnership Firm) under the Insolvency and bankruptcy code 2016 (IBC, 2016)

THE INSOLVENCY AND BANKRUPTCY CODE, 2016
Part III (Chapter II)
Fresh Start Process
1.) Who may File Application for Fresh Start in I&B Code 2016? (Section 80)
Any Debtor who fulfil following eligibility criteria may file application of fresh start for discharge of his qualifying debts.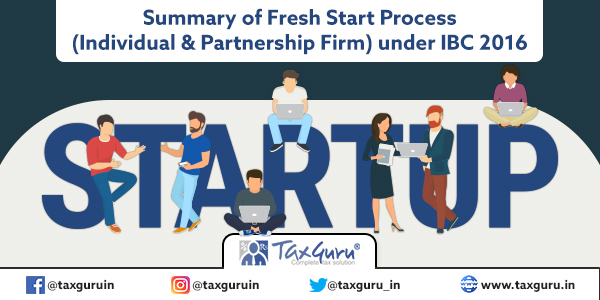 1. Gross Income of Debtor does not excedd Rs. 60000
2. Aggregate value of Asset of Debtor does not exceed Rs. 20000
3. Aggregate value of qualifying asset does not exceed Rs. 35000
4. Not an undischarged bankrupt
5. He does not owe a dwelling unit
6. Fresh Start, Bankruptcy or Insolvency Resolution Process is not subsisting
No Previous fresh start order has been made in last 12 months
Application can be filed by Debtor himself or through Resolution Professional.
2.) What is "Interim Moratorium" in case of Fresh Start Process ?
Interim Moratorium is a period in which all legal proceedings deemed to have been stayed and creditors cannot initiate any legal action or proceeding against such debts
Interim Moratorium will start from the date of filing application for fresh start and will be applicable till the date of admission or rejection of application.
3.) What are the documents and records to be submitted along with Fresh Start Application ?
Application for fresh start shall contain following information and must be supported by Affidavit
1. List of Each Debt owned by Debtors
2. Interest payable on such debt
3. List of Security Held
4. Financial Information of Debtor and his immediate family (2 years)
5. Personal Detail as may be prescribed
6. Reason for making application
7. Particular of Legal Proceeding against him
8. Confirmation about no earlier fresh start order
4.) Procedure for Appointment of Resolution Professional?
If application is filed by Resolution Professional than within 7 days of receipt of application Adjudicating Authority (AA) will direct the Insolvency and Bankruptcy Board (IBBI) and seek confirmation that no legal proceeding is pending against such Resolution Professional.
Board will communicate acceptance or rejection of appointment of resolution professional
If application is filed by Debtor himself than AA will direct board within seven days from the date of application, to nominate name of resolution professional suitable for fresh start application.
Board shall nominate resolution professional within 10 days from the date of directions issued by the board.
5.) Primary Responsibility of Resolution Professional after appointment?
Resolution professional shall examine the application within 10 days of appointment and submit a report to AA.
Report will contain information about qualifying debt and liabilities eligible to discharge.
6.) Adjudicating Authority's power to accept or reject application?
Within 14 days from the date of report by resolution professional, AA will decide on the matter of admission or rejection of application.
Order of Acceptance must contain amount of qualifying debt by resolution professional and amount eligible for discharge.
Copy of order passed by AA shall be provided to the creditors mentioned in the application along with copy of application within 2 days from the date of passing order.
7.) Objection by Creditors?
Within 10 days from the date of order of AA objection may be raised by creditors whose name is included in order with respect to inclusion of debt as qualifying debt or incorrectness of detail of qualifying debt.
Application for objection should be given to the Resolution Professional.
Within 10 days RP will accept or reject the application.
8.) Application Against the order of RP?
Within 10 days from the date of acceptance or rejection of creditor's objection by RP, either debtor or creditor may challenge the order before AA.
AA will decide the matter within 14 days of such application.
9.) Discharge Order?
RP will prepare a final list of qualifying debts and submit such list to AA at least 7 days before moratorium period comes to an end.
AA will pass discharge order at the end of the moratorium period for discharge of debtors from