GENERAL PROVISIONS
As per section 96 of the Companies Act, 2013, every company other than a One Person Company shall in each year hold in addition to any other meetings, a general meeting as its Annual General Meeting.
Provided that first Annual General Meeting shall be held within a period of 9 months from the date of closing of the first financial year of the company and in any other case, within a period of 6 months, from the date of closing of the financial year.
Provided that it shall not be necessary for the company to hold any Annual General Meeting in the year of its incorporation.
Provided also that, the Registrar may for any special reason, extend the time within which any Annual General Meeting, other than the first annual general meeting, shall be held, by a period not exceeding 3 months.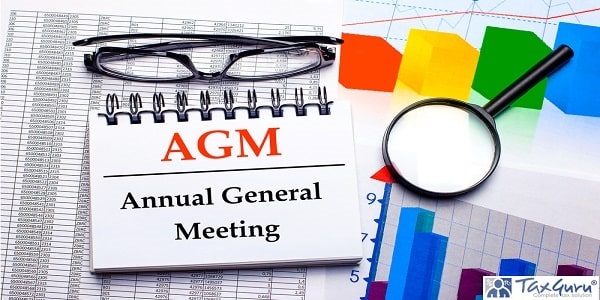 Every Annual General Meeting shall be called during business hours, that is, between 9 a.m. and 6 p.m. on any day that is not a National Holiday and shall be held either at the registered office of the company or at some other place within the city, town or village in which the registered office of the company is situated:
Provided that Annual General Meeting of an unlisted company may be held at any place in India if consent is given in writing or by electronic mode by all the members in advance:
PROCESS OF EXTENSION OF TIME OF ANNUAL GENERAL MEETING
STEP

PROCESS

1.

Convene Board meeting as per the section 173 of the Companies Act, 2013 read with rules Companies (Meeting of Board and its Power), 2014 and Secretarial Standard I.

Pass the Board Resolution for not holding Annual General Meeting and stated the reason for not holding the same. Board of Directors shall also authorize any of the director(s) to sign such application on behalf of the Company.

2.

Draft application for seeking approval from Registrar of Companies for extension of Annual General Meeting. Following points shall be mentioned in the application;

Details about the company (Name, Capital, Nature, Registered Office etc.) and reasons for not holding Annual General Meeting within prescribed time as per law.

3.

Company shall require filing Form GNL 1 to the Registrar of Companies.

Attachment of the Form:

Application for extension period
Memorandum of Association
Article of Association
List of Directors
Certified true copy of Board Resolution

4.

After that, the Registrar of Companies shall examine the application and pass the necessary order as it deem fit for the extension of period of holding Annual General Meeting subject to maximum 3 months.
PENALTY FOR NOT HOLDING ANNUAL GENERAL MEETING:
If any default is the made to holding Annual general meeting company , every officer of the company who is in default shall be punishable with fine which may extend to One Lakh Rupees and in the case of a continuing default, with a further fine which may extend to Five Thousand Rupees for every day during which such default continues.
*****
Disclaimer: –The above mentioned article has been based on relevant provisions of Companies Act, 2013. Under no circumstance, the author shall not liable for any direct, indirect, special or incidental damage resulting from, arising out of or in connection with the use of the information.