Condonation Of Delay Under Companies Act 2013 (Section 460)
Notwithstanding anything contained in this Act, —
a) where any application required to be made to the Central Government under any provision of this Act in respect of any matter is not made within the time specified therein
b) where any document required to be filed with the Registrar under any provision of this Act is not filed within the time specified therein
Government may, for reasons to be recorded in writing, condone the delay.
IMPORTANT NOTES: –
1. Section 460 is also applicable to Limited liability Partnership (LLP) (notification dated 30th January 2020).
2. Where the delay is not condoned/ application is not made, this will be specified in the secretarial audit report given in Form MR—3 as well as Certificate in relation to annual return given in Form MGT-8.
3. Obtaining condonation of delay is not a prerequisite to filing a document. It is a separate process under section 460 in respect of all belated filings. However, As per Strict Interpretation of Section 460, Every delay filling of e-Form is Required Condonation of Delay.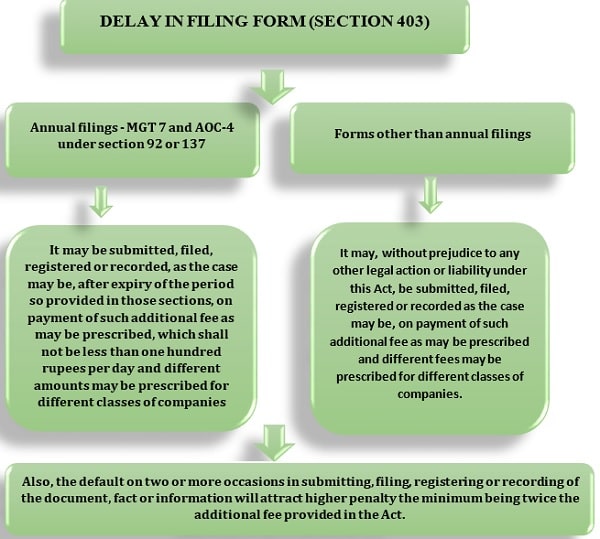 IMPORTANT NOTE:
In reference to Section 403 of the Companies Act, 2013 it is to be noted that immunity provided to companies to file within additional 270 days has been done away with. Therefore, any filing beyond timeline specified in respective section will invite additional fees as well as condonation of delay.
So, Condonation of delay becomes applicable immediately when there is delay in filing of any application or form under this act. Immunity of 270 days has been done away with.
PROCEDURE FOR CONDONATION OF DELAY
STEP-1 CONEVENE A BOARD MEETING OR PASS BOARD RESOLUTION BY CIRCULATION
To consider and approve application for condonation of delay to CG;
To authorise CS or CFO or any director of the company to make application to CG;
To authorise any practising professional or officer of the company to appear before MCA, and execute an authorisation in favour of such representative.
⇓
STEP-2 FILING APPLICATION FOR CONDONATION OF DELAY WITH CG IN FORM CG-1 ALONG WITH:
Documents for which the company is making application for condonation of delay.
Certified true copy of the Board Resolution authorizing for filing the application and appointing authorized representative, if any
Application with reasons for delay and relief sought;
Affidavit indemnifying petition;
Memorandum of Appearance;
Letter of Authorization;
Other required doc.
⇓
STEP-3  CG will scrutinize the application and issue the final order for other accepting or rejecting   the application
⇓
STEP-4  The order passed by CG shall be required to be filed with ROC in Form INC-28 along with the requisite documents and fees as per the directions issued by CG,
⇓
STEP-5  File the respective documents or forms with ROC for which condolation is done along with requisite documents and fees and SRN of Form INC-28. 
FEES FOR FILING FORM OR DOCUMENTS WITH CENTRAL GOVERNMENT
SR.NO
APPLICATION MADE
OTH THAN OPC & SMALL COMPANY
OPC & SMALL COMPANY.
1.

BY A COMPANY HAVING AN AUTHORIZED SHARE

CAPITAL OF:

A) UP TO RUPEES 25,00,000

B) ABOVE RUPEES 25,00,000 BUT UP TO RUPEES 50,00,000

C) ABOVE RUPEES 50,00,000 BUT UP TO RUPEES 5,00,00,000

D) ABOVE RUPEES 5,00,00,000 BUT UP TO RUPEES 10 CRORE OR MORE

E) ABOVE RUPEES 10 CRORE

2000

5000

10000

15000

20000

1000

2500

N/A

N/A

N/A

2.

BY A COMPANY LIMITED BY GUARANTEE BUT NOT HAVING A SHARE CAPITAL
2,000
N/A
3.

BY A COMPANY HAVING A VALID LICENSE ISSUED UNDER SECTION 8 OF THE ACT (SECTION 8 COMPANY)
2,000
N/A
DRAFT BOARD RESOLUTION: 
"RESOLVED THAT pursuant to the provisions of section 460 read with section ——— of the Companies Act, 2013 and rules made thereunder (including any statutory modification/s or re-appointment/s thereof for the time being in force), the consent of the Board be and is hereby accorded to file an application to Ministry of Corporate Affairs ('MCA'), for condonation of delay in___________________.
RESOLVED FURTHER THAT Mr./Ms. _________, director and __________, Company secretary of the Company be and are hereby jointly/ severally authorized on behalf of the Company, to prepare, execute, sign and file necessary applications(s)/ form(s) with MCA, along with other documents, papers, affidavits, Vakalatnama/ Memorandum of appearance as may be required, to appoint advocates, solicitors, council or other professionals to appear before MCA, to settle all matters arising out of and incidental thereto, on behalf of the Company and to take all such steps as may be necessary, proper or expedient to give effect to this resolution."