Company Law:
1. MCA has notified "the Companies (Registered Valuers and Valuation) Amendment Rules 2022".
Provision to intimate changes in personal details by registered valuer to authority.
Provision to intimate changes in governing board by registered valuers organization to authority.
INSOLVENCY LAW
1. Repeal of certain circulars with immediate effect.
Certain circulars are no longer required on account of being already provided in the respective rules such as under
IP shall not outsource any of his duties and responsibilities under the Code.
IP shall render services for a fee which is a reasonable reflection of his work, raise bills / invoices in his name towards such fees.
IPAs to amend their Byelaws to provide for the maximum and minimum monetary penalty
Detailed list of rescinded circular has been annexed in the circular below.
2. IBBI has issued circular regarding payment of fees to the Insolvency and Bankruptcy Board of India (the IBBI/Board)
Revision in annual fees payable by IPs to the Board from 0.25% of professional fee earned for the services rendered as an IP in the preceding financial year to 1%
IPEs application and annual fees revised
Regulatory fee section added related to resolution plan and hiring of any professionals by IP amounting to 0.25% and 1% respectively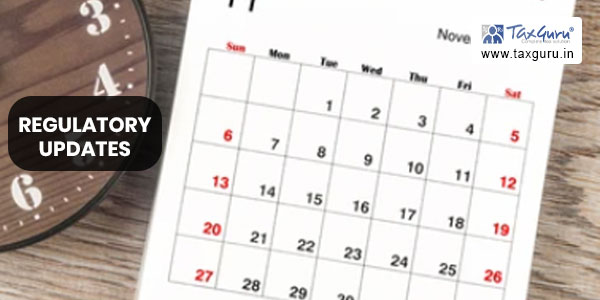 SECURITIES LAW
1. Master Circular on the redressal of investor grievances through the SEBI Complaints Redress System (SCORES) platform.
Now it is mandatory for investors to first take up their grievances for redressal with the entity concerned, through their designated officials who handle issues relating to compliance and redressal of investor grievances.
In case, the entity concerned fails to redress the complaint within the timeline provided herein, the investor may then file their complaint in SCORES
2. Master Circular on issuance of No Objection Certificate (NOC) for release of 1% of Issue Amount.
The issuer, before the opening of the subscription list, is mandated to deposit with the designated stock exchange, 1% of the issue size available for subscription to the public.
This amount of 1% shall be released to the issuer after obtaining the NOC from SEBI.
In order to obtain NOC from SEBI, the Post Issue Lead Merchant Banker on behalf of the issuer is required to submit an application along with certificate confirming that all ASBA account has been unblocked to SEBI
3. Disclosures on payment made to SEBI
Fees and other charges payable to SEBI shall become subject to GST at the rate of 18%.
In addition to this issuers have to provide the remittance particulars immediately after the remittance is made, in the prescribed format.
4. Amendment to SAST Regulations
Clause added in determining the offer price of acquisition of shares, stating that the price determined as per clause (d) shall not apply in the case of disinvestment of a public sector undertaking by the Central Government or a State Government. This proviso shall apply only in case of a change in control in the public sector undertaking.
5. SEBI notifies the amendments in LODR Regulation.
Monitoring of utilization of issue proceeds now also applicable to QIPs & preferential issues in addition to the already covered public issues and right issues.
More flexibility is given in approval process for appointment and/ or removal of Independent Directors.
Stock exchanges' NoC is not applicable for merger with wholly owned subsidiary with equity listed company, however, the same is applicable for NCD/ NCPS listed cos.
6. Sebi frames guidelines for AIFs for declaring first close of a scheme
The first close of close ended AIF scheme will be taken as the start date to compute its tenure.
If AIF fails to declare first close of the scheme in specified manner, it will have to file fresh application for launch of the scheme.
Earlier regulations were silent on when fund needs to be launched or complete its first close after registered with SEBI.
Corpus of the scheme at the time of declaring the first close shall not be less then minimum corpus prescribed in regulations.
Now prior approval from SEBI will be required in case of change of sponsor or manager or change in control of sponsor or manager.
Current changes will uniform all terms and calculation of the tenure across the industry for close-ended funds.
7.Review of timelines for listing of securities issued on Private Placement basis
It has reduced the timeline for listing of debt securities issued on a private placement basis to three days.
Currently, the timeline is four days, and the latest move would also expedite the availability of securities for trading by the investors.
The new guidelines would come into effect from 01st January 2023.
MICRO, SMALL AND MEDIUM ENTERPRISES DEVELOPMENT ACT 2006
1. Ministry of MSMEs has introduced new activities in NIC Code
New activities such as Drone manufacturing , Portable Petrol Pump/Portable Service Stations, Biomass pellet manufacturing, etc. has been included to NIC Code.
Disclaimer : This newsletter is a compilation of updates prepared and circulated from the academic point of view only and are not intended to constitute professional advice on any matter. The views and opinions expressed in this newsletter are those of the author of this document and are based on the internal research done by the Author.