Summary
Since its inception, Alternative Investment Funds have been preferred choice for high risk investment by HNIs and have impact fund formation practice in India greatly. An Alternate Investment Fund is a privately pooled investment vehicle, which collects funds from investors, for investing it in accordance with a defined investment policy for the benefit of its investors.
SEBI, vide its notification SEBI/HO/AFD-1/PoD/P/CIR/2022/157 has put a temporary ban on fresh inflow of funds into AIFs which follow a priority distribution model, that allows one class of investors (other than sponsor/manager) share loss more than pro rata to their holding in the AIF vis-à-vis other classes of investors/unit holders. This comes in with a background where this matter of unequal distribution is being examined by Alternative Investment Policy Advisory Committee.
What is Distribution Waterfall Model or Priority Distribution Model?
In a Fund, out of multiple investors – the classification can be made as follows; Limited Partner(s) and General Partner(s). As per SEBI guidelines, General Partner or Manager/Sponsor's sharing of loss shall not be less than pro rata to their holding in the AIF vis-à-vis other unit holders.
But the aforesaid mentioned rule does not apply for operation of unequal distribution of loss between multiple classes of investors. Prima facie, in some of the AIFs, a Distribution Waterfall Model is adopted in a such a way that a certain class would need to absorb more loss than other. In general practice, this may be done as a latter class of investor is allowed to exit earlier than other class, for which in a way, a premium is charged, and higher risk taker class gets compensated.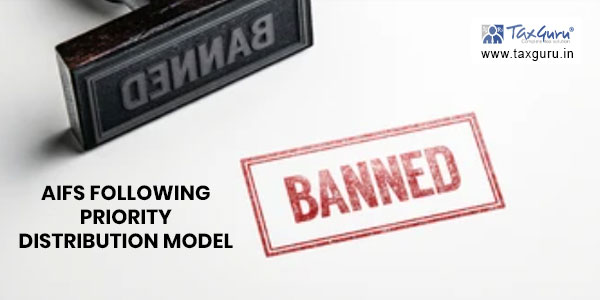 An example of such model is as follows:
1. Preference – guaranteed return upto a certain rate, Limited Partner keeps 100% of it.
2. Catchup – a rate band between preference and catchup, General Partner keeps 100% of it.
3. Carried Interest – a rate band between catchup and final rate achieved, where sharing is done on pre-decided basis
In these cases, instead of sharing between GP and LP, multiple sharing models between classes of investors can be carved out, and whereas currently SEBI bans only unequal loss distribution in favour of GPs, matter in hand is considering unequal distribution even between multiple classes of investors.
This article has been authored by Varun Matlani, student of law at Gujarat National Law University and CA (Intermediate) at Institute of Chartered Accountants of India, and can be contacted at varun20bcl018@gnlu.ac.in