Important Information :Taxpayer Forgot Password
PAN should be registered on TRACES
Pan details entered while resetting the password must be same as mentioned at the time of registration
Amount should be entered in two taxguru.in  decimal places (e.g., 1234.56)
For PAN holders, user id will be PAN Number only.
Success message will be displayed. Email will also be sent at registered email id intimating the change of password.
Brief Steps for Forgot Password :Taxpayer
To reset the password at TRACES, Taxpayer need to click on "Forgot Password" under "Login" tab
Step 1: Taxpayer need to provide User id (PAN Number),Date of Birth , Name (First, Middle and Surname). In case PAN Details provided as per taxguru.in PAN card are shown as invalid on TRACES, then please verify the PAN details from

www.

incometaxindia.gov.in
Step 2 : Taxpayer is required enter value for either Option 1 or Option 2 or Option 3.
Option 1 : Details for Security Question & Answer.
Option 2 : Details from 26AS and Form 16/16A provided by the deductor
Option 3 : Details of self assessment tax, advance tax or TDS on Sale of Property
Step 3 : User can reset the password
TRACES Home Page
–
Forgot Password
Forgot Password – Step 1: User Details
Forgot Password – Step 2
Forgot Password – Step 3: New Password Details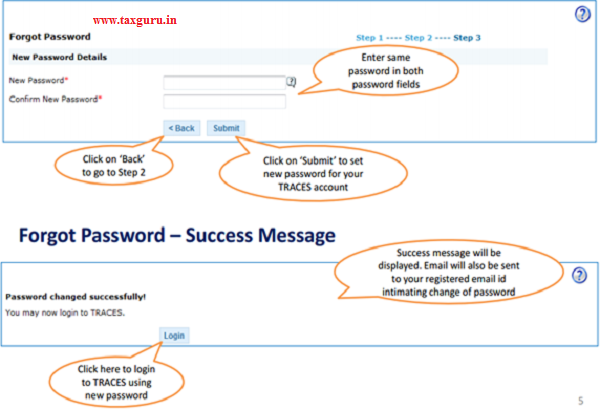 Source- https://contents.tdscpc.gov.in