FAQs on Register Digital Signature Certificate
Q.1 What is DSC and why is it required?
Ans: Digital Signature Certificate (DSC) is the electronic format of a physical or paper certificate. DSC serves as proof of identity of an individual or Organization for a certain purpose online / on computer. DSC authenticates and electronic document like how a handwritten signature authenticates a printed / handwritten document. DSC can be used to e-Verify returns filed by a taxpayer and is also mandatory in some cases.
Q.2 Why is DSC required?
Ans: e-Filing users who have opted for this facility require DSC to sign Income Tax Returns / Statutory Forms or to verify response against notices issued by Income Tax Department and refund reissue request. To sign or verify any document the user should have first registered their DSC with e-Filing system.
Q.3 What is an emsigner?
Ans: emsigner is a utility that is required for DSC registration. It has different versions suitable to different websites. For registering the DSC, a hyperlink to download and install the emsigner utility is available on the e-Filing portal.
Q.4 When do I need to re-register my DSC?
Ans: You will need to re-register your DSC either when the present DSC has expired or if you want to update the already registered digital Signature Certificate. (DSC)
Q.5 Where can I procure a DSC?
Ans: A valid DSC can be procured from a certifying authority and the same must be registered on the e-Filing portal post login.
Q.6 Is the DSC always registered against the PAN of a user?
Ans: DSC will be registered against the Permanent Account Number of the Individual user except in the case of Non-Resident Director of a Foreign Company. In case of Non-Resident Director of a Foreign Company, DSC will be registered against their email ID.
Q.7 Is DSC mandatory for certain services / users?
Ans: DSC is mandatory for some services / user categories such as e-Verification of returns filed by companies and political parties as well as other persons whose accounts are required to be audited under Section 44AB of the Income Tax Act. In other cases, it is optional.
Q.8. While registering a DSC, the message 'The Digital Signature Certificate is already registered' is displayed. What should be my course of action?
Ans: A DSC cannot be registered by multiple users. The error message might mean that the DSC is already registered against another taxpayer. Ensure that the DSC belongs to you and the PAN and email ID are encrypted. However, the exception to this is, a Principal Contact may use the same DSC for registering DSC for both Individual and Organization. For other error messages pertaining to PAN mismatch and expiry of DSC, the PAN must be checked and a valid DSC should be registered respectively.
Q.9 Whose DSC is required to be used for e-Filing ITRs of Company / Firm / HUF?
Ans: All categories except Individuals require the DSC of the Principal Contact (Karta in case of HUF) for e-Filing ITRs.
Q.10 If I already have a DSC, do I need a new one for e-Filing?
Ans: If you have a Specified Class 2 or 3 DSC for any other application, the same can be used for e-Filing as long as the DSC has not expired, or has not been revoked.
Q.11 What is a DSC PIN? Where can I get it?
Ans: DSC PIN is the password which the subscriber of the digital signature will have to use while uploading a digital signature. Every DSC token comes with a default PIN. You can choose to change the PIN through the installed DSC driver software (after you insert your DSC token into the USB port of your Computer).
Q.12 Do I need to register my DSC again in the new e-Filing portal?
Ans: Yes, you will have to register DSC again in the new e-Filing portal even if your previously registered DSC is active. DSC data is not migrated from the old portal owing to technical and data security issues.
Manual on Register Digital Signature Certificate
1. Overview
The Register Digital Signature Certificate (DSC) service is available to all registered users of the e-Filing portal. This service enables registered users to perform the following:
Register DSC
Re-Register when registered DSC has expired
Re-Register when registered DSC has not expired
Register DSC of Principal Contact
All users who wish to use DSC are required to re-register their DSC on the new portal using 'Register DSC' service. The DSC registered on the previous e-filing portal will not be migrated to the new portal due to security and technical reasons.
2. Prerequisites for availing this service
Registered user of the e-Filing portal with valid user ID and password
Downloaded and installed the emsigner utility (the utility can also be downloaded and installed while registering DSC)
The USB token procured from a Certifying Authority Provider should be plugged in to the computer
DSC USB token should be Class 2 or Class 3 Certificate
DSC to be registered should be active and not expired
DSC should not be revoked
3. Step-by-Step Guide

Step 1: Log in to the e-Filing portal using your user ID and password.
Step 2: Go to the My Profile page from the Dashboard.
Step 3: Click Register DSC on the left side of the screen.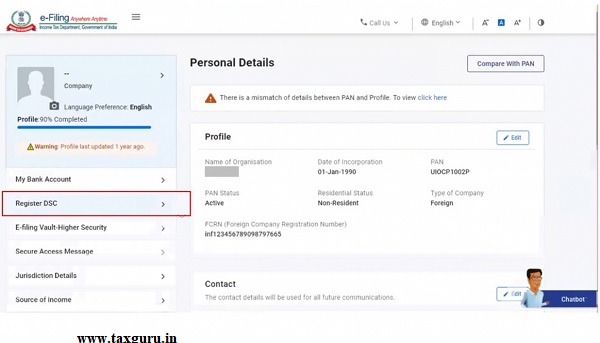 Step 4: Enter the email ID linked with the DSC token. Select I have downloaded and installed emsigner utility and click Continue.
Note: If you have to download the emsigner utility, you can click on the hyperlink for the same under Need Help.
Step 5: Select the Provider and Certificate. Enter Provider Password. Click Sign.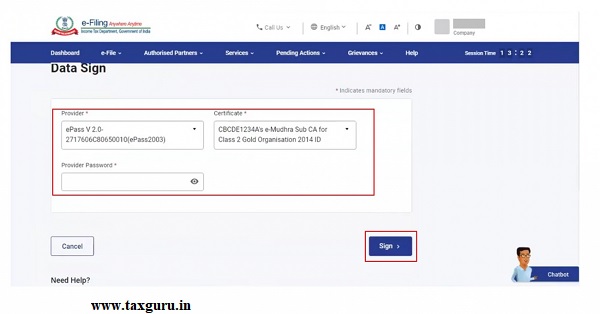 On successful validation, a success message will be displayed with the option to go to the Dashboard.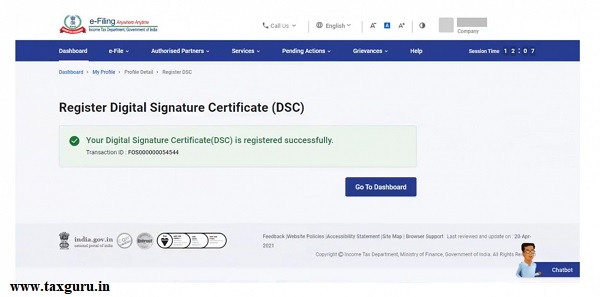 For the other scenarios of Registering DSC, please refer to the below table:
| | |
| --- | --- |
| Re-register when registered DSC has expired | After Step 3, the message Your Registered DSC has already expired. Please re-register a valid DSC is displayed. The process of registering a DSC in such a case is the same as explained. |
| Re-register when registered DSC has not expired | After Step 3, the message You have already registered DSC. You can view details of your registered DSC, or update by re-registering is displayed. Click View to view the details and Update to update the same (by following Steps 4 and 5). |
| Register DSC of Principal Contact | After Step 3, enter the email ID of the Principal Contact registered at e-Filing and proceed to register DSC following the same steps. |
4. Related Topics
e-Verify returns
Dashboard
Forgot Password
Service Request
e-Proceedings