While filing Form 26QB, on last stage of payment the loading page shows error message? Because of which the payment got rejected or failed? Now in such scenario many people thought that how can we solve this issue? How can we make payment since we opt for the option as "Pay Immediately", is subsequent payment accepted? If not what are the consequences and how it will resolve? I will try to solve all these questions in this article.
Option 1 – E-Tax Payment on Subsequent date of Demand for TDS on Property

While filing Form 26QB, either we can opt for this option or the another option is to pay immediately. In case, we choose to pay immediately and at the time of payment site will display an error page. So in such situation, don't panic.
You can go to "TDS on Sale of Property" Tab and click on "E-Tax Payment on Subsequent date" it will lead you towards payment window as follows: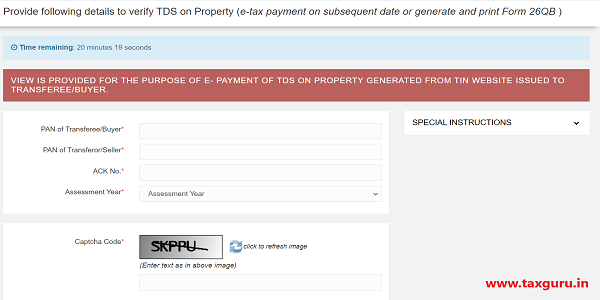 Now after entering all the details click on proceed and then it will re-direct you to your net banking page.  Then follow the normal payment procedure as you usually do at the time of immediate payment.
Option 2 – Payment of Demand for TDS on property
Now, many times people make mistake in calculating tax u/s 194IA or make any default in payment and filing of Form 26QB. At that time TDS CPC will issue ypu the notice asking for payment against that notice.
Facility to make payment of demand raised by CPC-TDS against TDS on Sale of Property has been enabled by the department on www.tin-nsdl.com this website.
To Pay Such Demand Please click on the URL below
https://onlineservices.tin.egov-nsdl.com/etaxnew/tdsnontds.jsp
Select / Click on "Demand Payment" (Payment against demand only for TDS on Sale of Property) as shown below –
Pay the Tax after filling the Particulars as shown in the screenshot below –
I hope the above article has cleared all your doubts regarding payment of tax for TDS on property.
All About TDS On Immovable Property Purchase (194IA)
(Republished with Amendments by Team Taxguru)