ACIT Vs Sri Meka Srinivas (ITAT Hyderbad)
This Revenue's appeal for Asst. Year 2008-09 arises from the Commissioner of Income Tax (Appeals)-12, Hyderabad order dt.29.09.2016 passed in case No. 0132/2015-16 in proceedings under Section 143(3) r.w.s. 153A of Income Tax Act, 1961 ('the Act').
Heard both the parties.  Case file perused.
2. Coming to the Revenue's sole substantive grievance that the CIT(Appeals) has erred in law in reversing the Assessing Officer's action adding the alleged unexplained investment amount of Rs.1.90 Crores, both the learned representatives invited our attention to the lower appellate detailed discussion to this effect as under :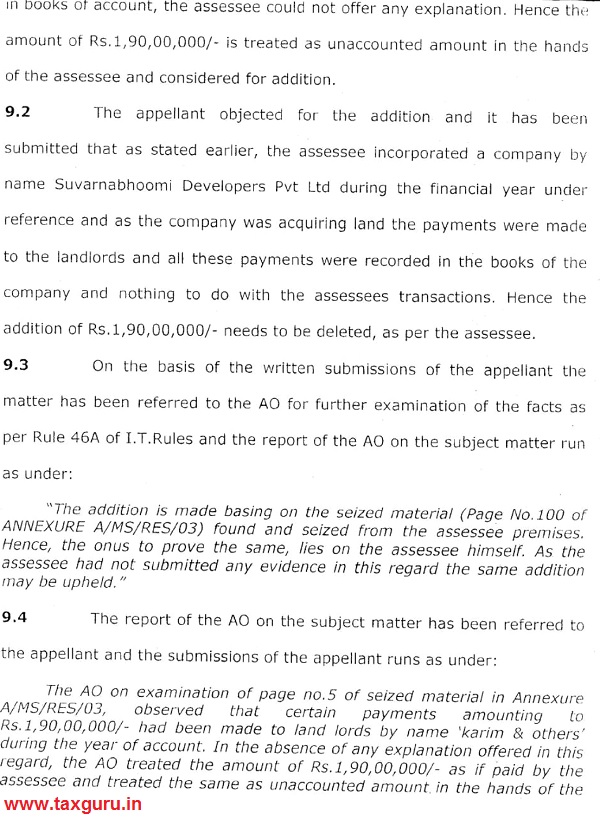 3. Learned CIT-DR vehemently supported the Assessing Officer's action that he had rightly made the impugned unexplained investment addition in assessee's hands on account of the incriminating material found during the course of search dt.10.02.2009 in case of M/s. Suvarnabhoomi Group. And that the CIT(Appeals) has erred in law and on facts in deleting the same. The assessee placed strong reliance on the CIT(Appeals) detailed discussion extracted in preceding paragraph in deleting the impugned addition.
4. We have heard rival submissions in support and against the impugned addition. We find no substance in Revenue's contentions. This is for the reason that the assessee herein Sri Meka Srinivas has already proved himself to have acted as Managing Director (MD) of M/s. Suvarnabhoonmi Developers Pvt. Ltd. (SDPL) who was engaged in corresponding business transaction in real estate. And also that the seized document i.e. A/MS/RES/03 has nowhere indicated the assessee's name at all leading to the inference that it was he himself in individual capacity and not the company who had carried out all the real estate transactions leading to impugned unexplained investment addition in issue. We thus find no reason to restore the assessment findings assessing the sum in issue of Rs.1.90 Crores in assessee's hands. The CIT(A)'s conclusion under challenge is upheld therefore.
5. This Revenue's appeal is dismissed.
Order pronounced in the open court on 06.05.2021.