NEW FEATURE ROLLING OUT ON A GST PORTAL
As the Due date of GSTR-9 is notified by the Government as 30th June 2019 the government is trying to simplify the Reconciliation of the Returns.  ITC claimed as this is major issue in Reconciliation of ITC claimed under GSTR-3B & ITC as per GSTR-2A.
The government has given easy outcome as Credit and liability Statement.
As After the view the Detail for the Various it will Take time of few Seconds to Generate the All Statement of Following
Liability other than Export/Reverse Charge
Liability to Reverse charge
Liability Due to Export and SEZ Supply
ITC Credit Claimed and DUE
As the Major issue as Mentioned above is ITC Claimed and Due.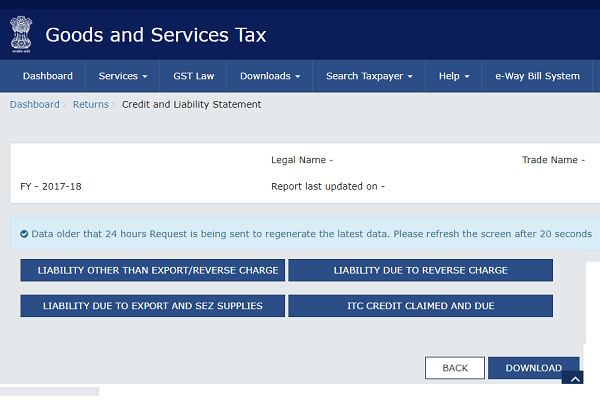 As For FY 2017-18 the ITC claimed as per GSTR-3B, ITC as per GSTR-2A, Shortfall (-)/ Excess (+) in liability (GSTR3B – GSTR2A), Cumulative Shortfall (-)/ Excess (+) in liability (GSTR3B – GSTR2A)
A. As the Shortfall /Excess computed and the Figures of such is Calculated Automatically.
B. Cumulative Shortfall /Excess is calculated through outcome of point A Adjusting the Excess of Credit if in any Tax as per the ITC rule & And if After Cumulative Adjustment of tax is still there is a shortfall the the Excess liability will be calculated and is excess of either of the tax then Excess credit will be Shown as per IGST, CGST, SGST.
As For FY 2018-19 The image of Credit and Liability Statement.
Hope This New Initiative By Government will Be Helpful for Business Person or to the Professional in Reconciliation of GST Figures.