MINISTRY OF FINANCE
Directorate of Systems, Chennai
Updating Mobile Number & Email Authorized Signatory-
Article explains Process flow and steps involved  for Updating Mobile Number & Email of Authorized Signatory on GST portal www.gst.gov.in of Registered Taxpayer.

Process flow- Updating Mobile Number & Email Authorized Signatory

Steps involved
Login using the provided credentials
Select GST Application
Activate Registration Menu
Select "Active Registration"
View the list of Tax payers active for the given formation
Search for the "Tax payer"who requested the modification
Activate "ACTION" button. It changes to Update AS (Authorised Signatory)
View the current email id and mobile no.
Change the required information
Attach the request letter received from the Tax payer
Submit, Confirm to view success message.
Modification will be communicated to Tax payer through Common portal
View the Registration details
Current Authorized Signatory
Update Email/ Mobile No.
Upload request letter received
Document stored in AIO/Server
Document attached
Confirmation Message for updating the changes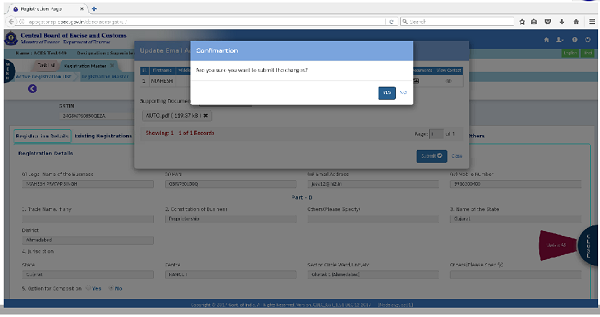 Successful modification
Presentation by
CBEC-GST Team
DG System
Chennai