DUE DILIGENCE
Mergers and acquisitions involve huge financial resources so it becomes important to evaluate the viability of the deal. Therefore, buyers undertake a process known as due diligence, though it is not an insurance but it provides assurance against the bad deal. The term more commonly applies to voluntary investigation but in some cases, it is used to mean a required legal obligation.
Due diligence involves financial statement review which could be historical, current or forecasted information, management and operations review, legal compliance review or overall business plan review.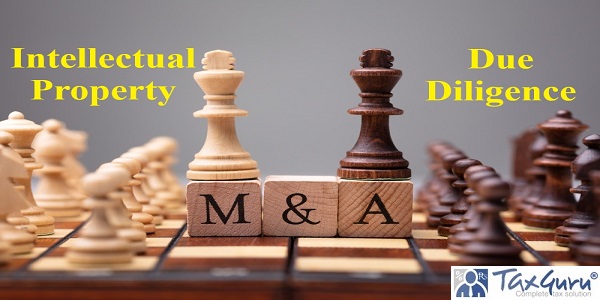 STEPS IN DUE DILIGENCE
Planning phase -> data collection phase-> Data analysis phase->report finalisation phase->due diligence reporting
INTELLECTUAL PROPERTY DUE DILIGENCE IN M&A
Conducting overall due diligence involves examining the company's key assets as well. This carries huge importance because earning potential majorly depends on the type and quality of assets it possesses. IP DD does not limit itself to technology sector only.
The key point among all the goals of IP due diligence is that due diligence is affected by target company's policies and practises relating to document retention, registration procedures and location of IP as well as length of business, maturity of management and the industry's environment.
In analysing the IP assets of a target company, the aim of an IP due diligence investigation is to:
Assess their quality
Determine their value and therefore the overall value of the business.
Apart from evaluating why the target acquisition is worthwhile it is also beneficial for seller as it surfaces any potential risks that might be deal breakers.
SOME OF THE INFORMATION THAT NEEDS REVIEWING WHILE IP DUE DILIGENCE INCLUDES:
Patents and patent applications
Trademarks, copyrights and trade secrets
'Doing Business As' names
Domain names
Slogans and brand hashtags
Publicity rights
Software and databases
This is the final stage of the IP due diligence investigation. Once all the investigation is finished, results should be combined and analysed. This provides structure for organizing the gathered facts. The results will answer if the intellectual property should be or shouldn't be purchased or sold.
EXAMPLE AND ITS ANALYSIS
A crucial example while DD was not conducted comprehensively is Volkswagen's acquisition of the Roll Royce Motor Car business from the conglomerate Vickers plc. The deal left out one critical asset, the rolls Royce brand, which was then transferred to BMW. As a result, Volkswagen could not use the name Rolls Royce Motor Cars. It was a significant lesson for M&A professionals involved.
So based on such experiences, there are various steps designed for IP DD, which includes ascertaining key IP assets of the target, identifying its title and ownership in different jurisdictions, health of the IP portfolio, its monetary value, third party rights in the IP.
CONCLUSION
Day by day world moves towards brand centric and innovative driven economies, it is important to protect company's IP assets in M&A as they are often referred to as ultimate M&A deal breakers. The power of IP to influence the outcome is only going to grow in future, so a lot of caution should be taken to protect both the parties involved in the transaction.