Analysis of  CIRCULAR NO. 2/2011 [F.NO. 385/25/2010-IT(B)], DATED 27-4-2011
If a deductor has deposited excess amount of TDS , the procedure for getting refund was given in Board Circular 285 dated 21-1-1980. Now CBDT has issued new circular in this respect.
This Circular 2/2011 is issued in  suppression of  circular No 285/ 21-10-1980
It covers TDS sections 192 to 194LA
It does not cover TDS on non-resident payments i.e. section 192, 194E and 195 ( which are  separately covered by circular No. 7/2007)
It covers refunds for the period upto 31-03-2010 .
Refunds for period thereafter will be covered under provision of section 200A which prescribes processing of TDS Statements
Excess to be refunded :
The excess payment to be refunded would be the difference between:
the actual payment made by the deductor to the credit of the Central Government; and
the tax deductible at source
Excess payment discovered during financial year
In case such excess payment is discovered by the deductor during the financial year concerned, the present system permits credit of the excess payment in the quarterly statement of TDS of the next quarter during the financial year.
Excess payment discovered after financial year
In case, the detection of such excess amount is made beyond the financial year concerned, such claim can be made to the Assessing Officer (TDS) concerned.
However no claim of refund can be made after two years from the end of financial year in which tax was deductible at source.
Safeguards to avoid double claims
To avoid double claim of TDS by the deductor as well as by the deductee, the following safeguards must be exercised by the Assessing Officer concerned:
The applicant deductor shall establish before the Assessing Officer that:
(i) it is a case of genuine error and that the error had occurred inadvertently;
(ii) that the TDS certificate for the refund amount requested has not been issued to the deductee(s); and
(iii) that the credit for the excess amount has not been claimed by the deductee(s) in the return of income or the deductee(s) undertakes not to claim such credit.
Prior  approval of the Additional Commissioner  is required for refund in excess of Rs. 1 Lakh
Prior  approval of the  Commissioner  is required for refund inexcess of Rs. 10 Lakhs
After meeting any existing tax liability of the deductor, the balance amount may be refunded to the deductor.
Procedure to file refund application in case of TDS:
Step 1: Login to TRACES website and Go to "Request for Refund" under "Statement Payment Tab"
Step 2: Go to Refund Checklist and click on "Proceed "
Step 3: Please select Section code:

Refund Request for Challan u/s 195
Refund Request for Challan other than sec. 195
Select Appropriate reason for raising the Refund Request, Click on "Add Challan" after selecting appropriate reason for raising Refund Request.

Step 4: Give challan details & if challan pertains to appeal order than enter appeal order number for which deductor wants to claim refund.
Step 5: Give Bank details to submit refund request.
Step 6: Verification page: Click on "Proceed" to continue TDS refund request.
Step 7: Confirmation Page: Click on "Submit Refund Request" to continue TDS refund request.
Step 8: Select a "Digital Signature" and proceed.
Step 9: 26B has to be submitted within 14 days to the Assessing officer.
Step 10: Request will be available under "Track refund Request".
Step 11: Under "Track Refund Request" select search "Option "1 or Option 2" to view Refund Status with remarks.
Some Important information to raise request for Refund on traces:
Deductor can apply for TDS refund from FY 2007-08 onwards.
It is mandatory to register digital signature on TRACES to submit the Refund Request
PAN of Deductor should be same as per TAN Master and TRACES profile and should be non blank.
A refund request consists of maximum of Five Challans. For claiming more challans, submit new request.
Maximum refund amount will be the minimum challan balance amount in the challan history.
Available amount per challan must be greater than Rs.100/-.
Ensure that all statement in which the challan has been claimed have been processed before claiming refund for the challan.
Sample example of 'Maximum Refund allowed calculation' provided by TRACES for better understanding: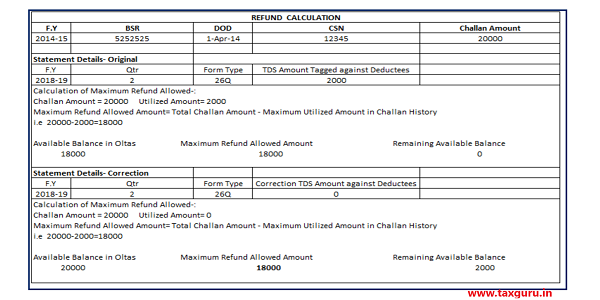 Pictorial guide of TDS refund is also provided by TRACES for easy understanding of Users. The link of the same is as under – https://contents.tdscpc.gov.in/en/refund-request-etutorial.html
Also Read-