On the new income tax portal, taxpayers have the option to check whether the income tax notice received is true. In October 2019, the Income Tax Department launched a facility to allow users to check this.
In August 2019, the Central Board of Direct Taxes (CBDT) had issued a circular stating that every computerized document identification number (DIN) would be included in every income tax notice issued by the department.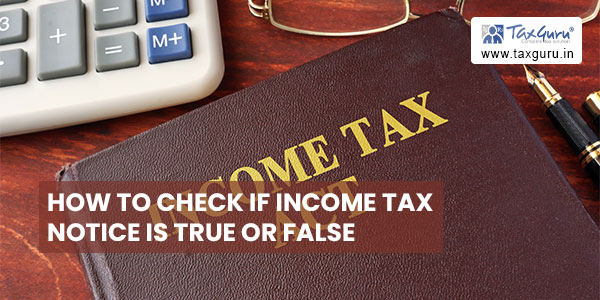 Earlier, the department had started mentioning DIN on income tax notices issued from October 1, 2019. However, notices from previous assessment years can also be checked on the new portal. This facility can be availed by entering the document identification number (DIN) and mobile number (for all assessment years) or PAN, document type, year of assessment, date of issue, mobile number (for notices/letters issued for the assessment year 2011-12.
How to check if the income tax notice is true
Here's how to verify the income tax notice you received:
Step 1: Visit www.incometax.gov.in
Step 2: On the Home page, under the 'Our Services' option, select 'Authenticate'.
Step 3: A new webpage will open on your computer screen. You will be given two options to authenticate the documents you received.
You can certify the document either by PAN, year of assessment, notification section, month and year of issue or by DIN. In both cases, you will need to enter your mobile number.
If you selected the first option, i.e., PAN, by assessment year, then select that option and enter the required details along with the mobile number.
On the other hand, if you choose the second option, you need to enter the DIN mentioned on the notice and mobile number.
Step 4: One-time password (OTP) will be sent to your mobile number. The OTP received will only be valid for 15 minutes.
Step 5: After entering OTP, click on 'Continue'.
Once the OTP is authenticated, if the notice or order issued to you is genuine, it will appear on the website. The website will show you the message: "Yes, the notice is valid and issued by the Income Tax Authority".
However, if the notice issued to you is not true, the website will say, "No such record was found for the document number / given criteria".
This facility will help the taxpayers to face the problem of fake notices. This tool provided by the e-filing portal can be used to verify the authenticity of documents or communications received from the department or any order issued by the tax authorities. Using this functionality, phishing emails and fraudulent communications Any documents or suggestions received by email are also uploaded to the e-filing portal from the department, however, its authenticity can also be verified using this tool.