As we all know GST registered businesses with annual turnover of ₹ 10 crore or more will have to generate e-invoices for B2B transactions from October 1, the finance ministry said.
Now, large number of taxpayers will be required to generate e-invoices w.e.f 01.10.2022 but in this busy schedule we all want to know some important points related to e-invoices.
So, Today I will discuss some important points that we all should know-
1. To whom E-invoicing apply –
E-Invoicing is mandatory from 1st October 2022 to all businesses whose aggregate turnover has exceeded the Rs.10 crore limit in any of the previous financial years from 2017-18 to 2021-22.
2. To whom E-invoicing does not apply?
E-invoice doesn't apply to the following category of persons irrespective of their turnover-
SEZ UNITS
An Insurer
An NBFC
GTA
A Banking Company
A Financial Institution
A person supplying passenger transportation services
A person supplying services of admission to the exhibition of the cinematographic films in multiplex services.
3. What are supplies covered under e-invoicing?
E-Invoicing currently applies to:
Supplies to registered persons (i.e., B2B supplies),
Supplies to SEZs (with/without payment of tax),
Exports (with/without payment of tax), and
Deemed exports,
4. Is E-invoicing applicable to nil –rated /wholly exempt supplies?
No, e-invoicing is not applicable to nil-rated or wholly-exempt supplies as in these cases, only a bill of supply is issued and not a tax invoice.
5. Is E-invoicing applicable to financial or commercial credit notes – 
No, E-invoicing not applicable to financial or commercial credit notes.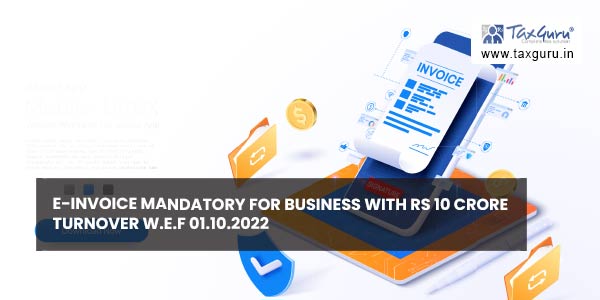 6. Benefits of E-invoicing – 
Main benefit is reduction in evasion of tax as every tax invoice is authenticated by GSTN .Post authentication , each invoice will be issued an IRN (Invoice reference number )
Auto-population of various data to GST returns
Reduction of reconciliation problems
E-Way Bill will be auto generated.
7. Points to be kept in mind- No Amendment possible in Invoice –once e-invoice is generated though it can be cancelled within 24 hrs. Further, Document number cancelled cannot be used again for generation of e-invoice. Firstly E-way bill need to be cancelled then IRN. 
Queries /doubts related to above mailed at mamta0581@gmail.com