As the saying goes, health is wealth, and investing in a good health insurance policy is an excellent way to safeguard that wealth. However, choosing the right health insurance policy can be a daunting task, with numerous options available in the market. One must consider several factors while selecting a policy, such as the policy tenure, premium, post-hospitalization coverage, room capping, pre-existing disease coverage, and more. In this article, we will discuss some crucial factors that one must keep in mind while selecting a health insurance policy. We will also elaborate on the different benefits that a policy should provide, such as ambulance cover, restore benefit, organ donor coverage, and Ayush treatment. So, let's dive in and explore the essential elements that one should consider while selecting a health insurance policy.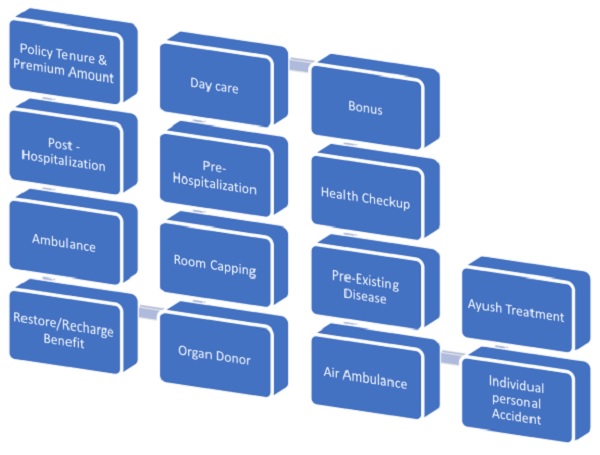 1. Policy Tenure & Premium – It tells about the policy time period (1y or 2y or 3y) & the premium which you are ready to pay that can be claimed as Deduction u/s 80D. The premium varies as per the different policy providers & age of the policyholder.
2. Post-Hospitalization – It tells after recovery; how many days of treatment will be covered. (180 Days or 6 months)
3. Ambulance – Preferred Rs.2,000/- expense + Hospitalization.
4. Restore/Recharge Benefit – If the sum insured is used, can it be Restored? And how many times?
5. Organ Donor – Up to Sum Insured (The sum insured for the policyholder should be the same for the organ donor also.)
6. Room Capping – For the type of room in the hospital. (This ensures that the best room should be provided to the policyholder & not just any.)
7. Pre-Hospitalization – This tells that before you get admitted to the hospital, how many days will be covered by the policy. (60 Days preferred)
8. Day Care – All daycare expenses should be covered.
9. Bonus – 50% every claim-free year, Max is 100% (If you have not claimed the policy in a particular year, the bonus should be added to the new policy.)
10. Health Check-up – Preferred is on every sum insured of 1Lakh a sum of Rs. 500/- should be given. (Example: sum insured 5Lakh then for Health checkup it should be Rs.2,500/-)
11. Pre–Existing Disease – Preferred is After 36 months pre-existing diseases are also covered.
12. Air Ambulance – preferred is 2.5 lakhs per hospitalization subject to max sum insured.
13. Individual Personal Accident – Must be covered.
14. Ayush Treatment – Up to sum insured.  AYUSH stands for Ayurveda, Yoga, Unani, Siddha, and Homeopathy. Under the AYUSH the person can get cover for any of these treatments which are the alternates of allopathic sciences.