How to Renew/ Re- register Digital Signature Certificate (DSC) on Trademark e-filing portal
Registration of Digital Signature Certificate (DSC) is pre-requisite for any Trademark Agent / Attorney, in order to be able to file various forms, replies, etc on online 'filing portal of Trademark.' In case the originally registered DSC expired, new DSC is required to be registered again on the portal. Here we are not discussing the process of first time registration of DSC, but, the registration of new DSC on the expiry of the validity period of the old one. In order to register the DSC for the first time, one can follow the steps enumerated in following link https://ipindiaonline.gov.in/trademarkefiling/UsefullDownloads/DSCManual.pdf
The process to renew / re-register DSC is detailed below-
1. Visit the 'Trademark e-filing portal' by entering the URL https://ipindiaonline.gov.in/trademarkefiling in the Search Bar of your Browser. Login page will open.
2. Login by using the User Id with Password or Digital Signature.
3. Following page will appear-
4. Click on Control Panel as shown above. It will display the following menus-
View/ Update Profile
Change Password
Renew Digital Signature
5. Click on 'Renew Digital Signature'. Following page will open-
6. Enter your 'User ID' and 'Old Certificate Serial No.' in the space provided.
7. Click on 'Click and Choose New Certificate.' A 'Dialogue Box' will appear showing the Digital Signature to be selected as shown below-
8. Select your Signature and click on 'OK' button.
9. Your New DSC will be registered.
Important points-
1. Use Internet Explorer Version 10 or higher, in order to use or affix DSC on Trademark E-filing portal.
2. If you do not have 'Old Certificate Serial No.,' same can be found in 'View Profile' Menu under 'Control Panel' as shown below-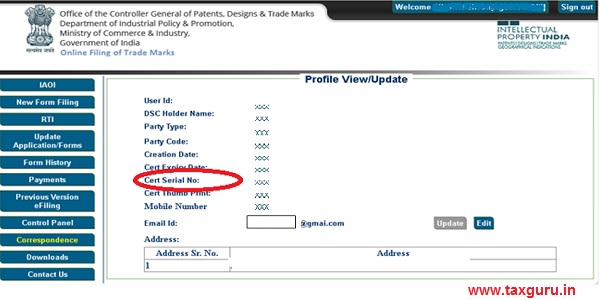 Alternatively, it could be found on ePass 2003 Software/ Application of Digital Signature Certificate. Insert Old Digital Signature and Click on ePass 2003 icon (Status Tray Icon). Same could be found on 'Status Tray' in taskbar of your PC. After clicking on the ePass 2003 icon, ePass 2003 window will appear. Log in by entering 'User Pin/token password' of DSC and click on the Certificate, as shown below-
Certificate Serial Number could be found on top of the window, as highlighted in following image-
*****
Disclaimer: The information provided above is for general informational purposes only in good faith. The content of the above article has been drawn with utmost care and diligence on the basis of applicable procedures. Efforts have been made to provide accurate, adequate and complete information with no responsibility of the author whatsoever.