In today's scenario, all the Company's after successfully availing company registration, irrespective of their size require the expansion of capital and growth of their business. So, to raise capital, the Companies Act, 2013[1], has come up with Section 42 of Companies Act, 2013, which provides to make an offer of shares to a selected group of persons to make Issue of Shares through Private Placement. In this article, we will go through Procedure to be followed for Issue of Shares through Private Placement.
Procedure for Issue of Shares on Private Placement basis
1. Procurement of Valuation Report for price determination and its justification
2. Prepare letter of offer in Form PAS-4 along with an application form serially numbered, specifically addressed to the offeree as per provisions of Rule 14
3. Prepare Form PAS-5 for record of private placement offers
4. Board Resolution for approval of Form PAS-5, draft PAS-4 and issue of securities
5. eForm MGT-14 for filing the Board Resolution with Registrar within 30 days of passing the resolution for issue of securities (exempted for private companies)
6. Special resolution for approval of letter of offer in Form PAS-4 along with explanatory statement as per provisions of Rule 14, however
(a) Special resolution is not required in case of Non Convertible Debentures where the proposed amount to be raised does not exceed limits envisaged in Section 180(1)(c) and Board Resolution pursuant to 173(3)(c) has been passed
(b) In case limit exceeds, and Special Resolution u/s 180(1)(e) is passed, it is sufficient if such Special Resolution is passed once a year for all offers during the year (Section 180 is exempted for private companies)
7. eForm MGT-14 for filing the special resolution (Board resolution in case of NCDs) with Registrar alongwith
(a) Special resolution/Board Resolution
(b) Explanatory statement with price justification
(c) Consent to shorter notice (if applicable)
8. Issuance of Letter of offer in Form PAS-4
9. Letter of acceptance of offer from shareholders alongwith filled application Form and application money through Banking Channels
10. Board resolution for allotment within 60 days of receipt of application money
11. eForm PAS-3 for return of allotment within 15 days of allotment alongwith:
(a) List of allottees
(b) Board resolution
(c) Special resolution
(d) Copy of contract/complete particulars of contract duly stamped is mandatory to attach in case securities are issued for consideration other than cash
(e) Valuation Report
12 eForm MGT-14 for filing the copy of Board Resolution ed for Private Companies)
13. Issue of share certificates as per section 46 & 56
14. Every unlisted public Company shall issue its securities in dematerialized form (For compliances of dematerialisation please refer next procedure)
15. Stamp duty adjudication i
16. In case of allotment in demat Form- intimation to depository immediately
17. In case of allotment of Shares to a foreign resident Form FC-GPR in Single Master Form shall be filed within 30 days of the allotment.
Important Notes: (i) The offer under private placement shall be made to not more than 200 persons in the aggregate in a financial year. Further, the limit of 200 persons would be reckoned individually for each kind of security i.e. equity, preference share or debenture.
(ii) No fresh offer or invitation under this section shall be made unless the allot ments with respect to any offer or invitation made earlier have been completed or that offer or invitation has been withdrawn or abandoned by the Company.
(iii) Further, a company may, at any time, make more than one issue of securities to such class of identified persons as may be prescribed subject to maximum no of identified persons i.e. 200.
(iv) A company shall issue private placement offer cum application letter in Form PAS-4 only after the filings of MGT-14 for special resolution or Board resolution, as the case may be
(v) The subscription money has to be received along with the Application form.
(vi) All the monies towards subscription shall be paid via cheque or draft or banking channels only. (No cash).
(vii) The Subscription money shall be deposited in a separate bank account and shall not be utilized for the purpose other than adjustment against allotment of securities or refund of Subscription money
(viii) The Subscription money shall not to be utilized unless the allotment has been made and Form PAS-3 is filed with ROC.
(ix) The securities to be allotted within 60 days of receipt of Subscription money.
(x) In case a Company is not able to allot the securities within 60 days, it shall repay the amount to the subscriber within 15 days. If in case it is not repaid in stipulated time, interest @12% per annum from the expiry of 60th day shall be charged.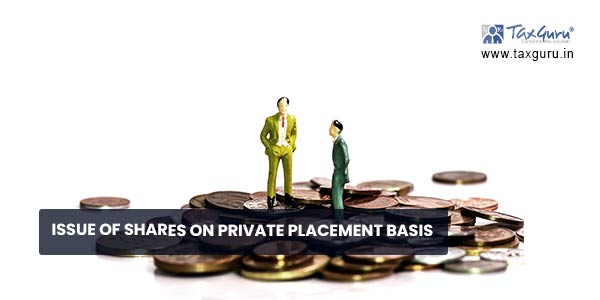 (xi) No allotment to be made to persons whose name is not recorded in PAS-5.
(xii) No public advertisement or use of media/marketing or distribution channels to inform about such an offer.
The article has been prepared considering the relevant Guidelines/ Circulars/ Notifications/ Provisions of the Companies Act, 2013, the rules made there under & The Companies Act, 2013. Readers are requested to cross-check the provisions before acting upon the same. The author will not be liable for any damages or penalties caused.
About Author:- Author Sagar Kapoor is a Practicing Company Secretary at Delhi. Founder of Sagar Kapoor & Associates, The author has core knowledge in Company Law matters specially. You can get in touch with me at CSsagarkapoor@gmail.com.