The Income Tax Department has launched a new portal for ease of filing on 07.06.2021. The new portal can be accessed at www.incometax.gov.in. The portal has 10 language options for its users. The objective of this portal is to provide a single window access to the income tax related services for taxpayers and other stakeholders.
The portal shall fulfill the following objectives:
Let us analyse the features of the new portal:
A single dashboard will display all interactions, uploads, pending actions or any follow-up measures required.
A detailed section for each category of filing with user manuals and videos providing information about applicable forms, tax slab, deductions, refund status, etc.
The JSON utility shall be made available for offline filing of return.
An interactive ITR preparation software shall enable taxpayers to file ITR 1, 2, 4 and other Returns will be available shortly.
The new website will enable online tax payment options like net banking, UPI, Credit Card and RTGS/NEFT for seamless payment of taxes.
A chatbot has been introduced to assist taxpayers.
A new mobile application will be launched soon.
The interface of the website has been simplified with tabs categorizing the desired selection of the users. A detailed illustration is being provided for better understanding.
 As we open the website, these are the tabs available for users: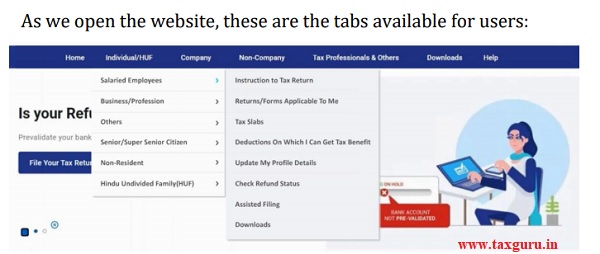 Likewise, under Company tab, we have to choose-
> Domestic company
> Foreign Company
For Non-Company tab, the following options are given-
> AOP/BOI/Trust/AJP
> Firm/LLP
> Local Authority
For Tax Professionals & Others, the following options are given-
> Chartered Accountants
> External Agency
> Tax Deductor & Collector
The following services are available for a Chartered Accountant:
i. File Statutory Forms (once you are added as a CA by a taxpayer and you have accepted the request)
ii. e-Verify the forms assigned to you by taxpayer
iii. Upload bulk form (Form 15CB)
iv. View filed Statutory Forms
v. View & Submit Grievances
vi. Set higher security Login options through Profile
vii. Register DSC
Note: All the filing by a CA must be with a valid DSC.
As we scroll below, we find 'OUR SERVICES' tab enlisting the following services provided by the website:
Now, when user chooses to log-in, multiple options have been made available.
> For Individuals, i.e.( Salaried employee, Senior citizen, Self-employed, NRI) PAN or AADHAR shall be required.
> For Other than Individuals, i.e.( Company, Trust, AOP, AJP, BOI, Firm, Local Authority)
PAN shall be required.
> For Chartered Accountant, Tax Deductor and Collector, e-Return Intermediary, TIN 2.0 Stakeholders, External Agency, ITDREIN
Respective User ID followed by 6-digit number.
NOTE: Users may also log-in through net banking using valid credentials and they shall be directly to the e-filing website.
After log in, users shall see their profile status and upon 100% update on their profile, the following options will be available:
√ Condonation Request
√ Download Pre-filled XML
√ Register as representative
√ Register to act on behalf of another person
√ Authorise another person to act on behalf of self
√ Manage ITD Reporting Entity Identification number (ITDREIN)
In the dashboard, options available are Tax Deposit, Recent Filed Returns, Pending Actions, Recent Forms Filed and Grievances.
The Recent Filed Returns shows a 2-year analysis of taxable income, tax liability and tax deposited.
 The Pending Actions tab allows the user to check the following: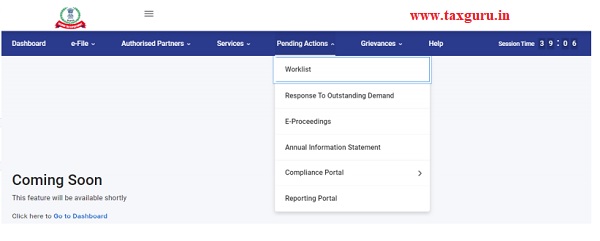 The Grievance tab enables taxpayers to address any concern that arises during the filing process and after. The Grievance Cell support team includes the following:
A very important feature introduced in the new portal is the e-Filing Vault Higher Security option available under 'My Profile'. In addition to the existing User ID and password, a second step of verification will be enabled to secure the portal from external threats and unauthorized access.
To set Higher Security for Log In or if the password is reset, we have to choose from the given options:
√ Through Net Banking
√ Using Digital Signature Certificate
√ Using OTP on Mobile number registered with Aadhar
√ Using Bank Account EVC
√ Using DEMAT Account EVC
There's still a lot of features awaiting to be processed gradually. The website is not fully functional as on date and there has been several reports of technical glitches faced by users. We expect complete restoration shortly. Further the Department requests the patience of all taxpayers and stakeholders during this initial period while we familiarize with the functionalities of the new advanced system.
************************************
In case of any filing related queries, you may reach out CA Praveen Kumar Surana at [email protected]