Effective from Jan 2022, the tax payer has certain restrictions on availing his eligible Input Tax Credit in his GSTR3B as notified by CBIC, vide Notification 39 dtd 21.12.2021
The CBIC has amended the Section 16 by inserting a new subclause 16(2)(aa) as under:
(aa) the details of the invoice or debit note referred to in clause (a) has been furnished by the supplier in the statement of outward supplies and such details have been communicated to the recipient of such invoice or debit note in the manner specified under section 37;.
On a plain reading we can understand that a recipient can avail Input Tax Credit if his Supplier has filed his returns under Section 37, which is GSTR1. Also if the details of such Invoices are communicated by GSTN to the recipient.
Here we had a confusion as the GSTN is communicating the Supplier filing details to the Recipient in two different reports, GSTR2A & GSTR2B.
The bigger question for Tax payers filing GSTR3B returns for the month of January 2022 is, on what report basis the ITC should be taken? GSTR2A or GSTR2B
For this the CBIC clarifies that the Input Tax Credit has to be availed based on GSTR2B. A information pop up also displayed in GSTN portal on this regard.
Whether this is correct? Why not we avail Input Tax Credit based on GSTR2A instead of GSTR2B?
Before going into details we shall see the difference between GSTR2A and GSTR2B.
GSTR2A is a report on supplier filed data based on the "transaction period". For example if an invoice pertaining to October 2021 but the Supplier filed his GSTR1 during December 2021, this data reflects in Oct 2021 period in GSTR2A. This data will be keep on changing based on the return filing for particular return period, whenever the supplier files his returns
GSTR2B is a report on supplier filed data based on the "filing period". In the above referred example that transaction reflects in Dec 2021 period in GSTR2B. This report is constant and have all the transactions declared in a particular filing period which also includes delayed declaration of Transactions if filed in the particular month.
With this understanding we shall analyse why CBIC is wrong in mandating GSTR2B for ITC availing instead of GSTR2A.
We shall take a practical examples to understand this issue in detail.
Example 1 – ITC Availing delayed:
A Recipient purchased a material in Dec 2021 but due to delay in getting process approval or quality checking and approval of the material got delayed he is claiming the ITC during the month of January 2022.
The supplier has promptly filed his returns for the period Dec 2021.
Now when the Recipient claims ITC for the month of January he need to check the ITC available as in GSTR2B. The above Invoice will not reflect in January GSTR2B because the supplier has filed the returns promptly without delay and hence the same will be reflected in GSTR2B of December 2021.
As per the new restrictions by CBIC the recipient cannot avail this ITC in his January returns as it is not available in GSTR2B.
But as the supplier has already filed his returns, this transaction will be available in GSTR2A of December 2021.
Example 2 – Goods receipt delayed
A consignment from Gujarat to Coimbatore takes 5-8 days of transit.
Let us imagine, If the Supplier in Gujarat issues an Invoice in January 28th for the consignment to Coimbatore and the consignment may be reaching the Recipient by 5th of February.
In this case, the Supplier will be declaring this transaction in his January month's GSTR1 whereas the Recipient will be considering the 'same transaction' for claiming ITC in his February month's GSTR3B.
When the recipient try to claim ITC in his February month's returns, he will not find this transaction in February GSTR2B as the supplier has declared in January and hence it reflects in January month's GSTR2B.
A single transaction which is in transit during month end is no fault of supplier or recipient and it is a very normal trade practice in India and considering the wide geographic nature of India, many goods are in transit during month ends. We cannot make any cut off of transactions to ensure that that month purchase should reach destination the same month.
In this condition, the recipient cannot avail his credit in his February returns. Will he able to claim this ITC in his January returns? That is also not allowed, because the material physically recived in the month of February and hence he cannot claim ITC in January.
Whether this ITC can be claimed in his March returns? That is also not allowed based on CBIC restrictions as it is not appearing in GSTR2B of March.
Technically he cannot avail the ITC in any month even though this is a very legitimate and genuine transaction.
Example 3 – Supplier filing delayed
A material purchased in December 2021 and the recipient also accounted the transaction in December 2021. The recipient intend to avail ITC in December 2021 returns but understood that the Supplier has not filed his returns.
In such situation, the recipient cannot avail ITC and need to make his tax payment by cash
Once the supplier has filed his returns, say during February 2022, then only the recipient can avail his ITC.
In all the above examples, please note there is no attempt of tax evasion and recipient complying with law procedures for his legitimate Input Tax Credit. He physically recived the goods, holding valid documents for availing ITC, Supplier also filed his returns but ITC is deferred to the recipient thus making him to pay taxes in cash.
All these confusions are due to CBIC mandating GSTR2B for availing ITC, instead of GSTR2A.
If GSTR2A is allowed, then the recipient can check cumulative GSTR2A for the Financial year, and if the Invoice is appearing in any of the month (GSTR1 filed by Supplier) then the recipient should allowed to avail ITC
This is what GST Act Section 16(2)(aa) also permits (avail ITC if Supplier filed his GSTR1). Supplier GSTR1 Filing details can be verified both in GSTR2A and GSTR2B. So if the Invoice is available any of the reports, GST Act is allowing the recipient to avail his ITC.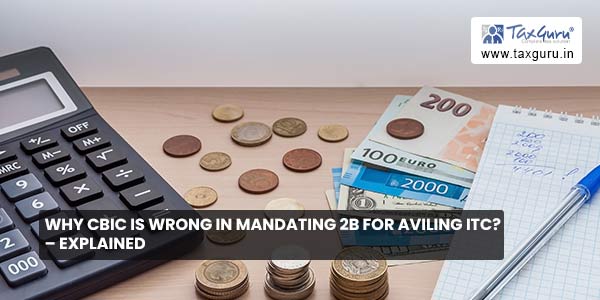 Now where is the dispute?
Notwithstanding anything, the Act is superior than any other procedures. All Rules and Procedures should be based on the Act only. In case there is a dispute, then the decision of Act is final. Act always supercedes any Rules
With this basic understanding, we can easily come to a conclusion that the restrictions by CBIC mandating GSTR2B for availing ITC is wrong. GSTN displaying a warning message in its portal is also wrong. Highlighting "excess credit" in the GSTN portal based on GSTR2B for the month is wrong. All these validations and restrictions are not in line with the GST Act.
CBIC should come up with a solution that the Recipient should be allowed to avail ITC if the supplier has filed his GSTR1 returns and the same is appearing in either GSTR2B or GSTR2A. GSTN should remove the validations which are contrary to GST Act and revise the validations according to the Act
What next for Recipient?
Recipient should check both GSTR2B & GSTR2A reports for supplier filing status, and if it is available in any one of the report he can take ITC
If the Invoice is not available in both the reports, he has to keep the ITC claim pending till the Supplier files his GSTR1
Any queries from department regarding comparison of GSTR2B vs GSTR3B should be legally taken up, as that is not at all a practical way to claim ITC and also that comparison contradicts with GST Act.
Hope CBIC will come up with a clarification on this issue immediately to avoid litigations piling up with department and Judiciary forums.