Authority for Advance Rulings, Telangana ('AAR') in the case of M/s Bambino Pasta Food Industries Private Limited 'the applicant' has issued a ruling regarding availability of Input Tax Credit on CSR expenses incurred by the applicant company. Captioned ruling has been analyzed in this update.
1. FACTS OF THE CASE (relevant extracts)
The petitioner is a private limited company engaged in the is a manufacturer of Vermicelli and pasta Products.
Applicant has donated oxygen plant to AIIMS hospital Bibinagar, Yadadri Bhongir District, for the benefit of patients who were suffering with low oxygen levels. For this purpose, the applicant has purchased PSA oxygen plant and spare parts for that oxygen plant for Rs.62,74,200 which includes IGST paid of Rs 9,16,200
2. QUESTIONS BEFORE THE AAR
Whether ITC is available on CSR expenditure spent by the company?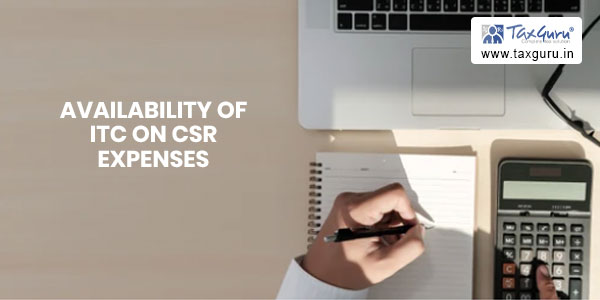 3. CONTENTION OF THE APPLICANT (relevant extracts)        
That it is eligible to claim ITC on the CSR expenditure spent by it since it is spent in accordance with the provisions laid down by Companies Act, 2013. CSR expenses incurred by the applicant have been mandated under the Companies Act, 2013.
That CSR expenses are not incurred voluntarily, accordingly, applicant is of the opinion that it doesn't qualify as 'gift' and therefore its credit is not restricted under Section 17(5) of the CGST Act, 2017.
That non-spending of CSR funds will definitely have an impact on the functioning of company as penal provisions under Companies Act 2013 will have financial impact as well as on how the brand is perceived by the customers.
That a Company incurs CSR expenditure under statutory compulsion, which is certainly incurred because of running of business and by no stretch of imagination, could it be considered as 'gift' for any reason.
4. RELEVANT LEGAL PROVISIONS REFERRED                                                                
Section 17(5)(h) of CGST Act, 2017
5. OBSERVATION AND RULING BY THE AAR
AAR noted that under the Companies Act, 2013, the Companies with a specified net worth or net profit are obliged to incur a minimum of 2 % of their net profit towards their corporate social responsibility (CSR) and failure to do so will attract penalty under sub section 7 of Section 135 of the said Act which may go upto a maximum of Rs.1 Cr.,. Thus, the running of the business of a company will be substantially impaired if they do not incur the said expenditure. Therefore, the expenditure made towards corporate responsibility under section 135 of the Companies Act, 2013, is an expenditure made in the furtherance of the business.
AAR finally ruled as under on the stated questions:
The expenditure made towards corporate responsibility under section 135 of the Companies Act, 2013, is an expenditure made in the furtherance of the business. Hence the tax paid on purchases made to meet the obligations under corporate social responsibility will be eligible for input tax credit under CGST and SGST Acts.
6. Our comments            
AAR has dealt with the legal provisions in depth and provided a reasoned order conforming to general understanding & earlier UP AAR ruling in 'M/s Dwarikesh Sugar Industries Limited' that ITC benefit on CSR expenditure would be available as the CSR activities are mandatory for specified companies under a statute which makes it integral and sine qua non for continued business operations.
Since CSR activity is mandated by Section 135 of the Companies Act, 2013 for some classes of companies and not voluntary, therefore CSR activity would not be regarded as gift. Clear difference needs to be carved out between goods given as gift and those supplied as part of CSR activities. While the former is voluntary and occasional, the latter is obligatory and regular. Thus, any activity which is mandatory for a business entity to ensure continuity of business operations in view of law of the land has to be treated as incurred 'in the course of business' and thus input tax credit of GST paid on the same would be available.
This ruling would enable companies to consider taking ITC on various Covid relief expenses incurred which are being claimed as CSR expenditure in accordance with the FAQs issued by Ministry of Corporate Affairs through General Circular No.15/2020 dated 10th April 2020.
(Author can be reached at dinesh.singhal@snr.company or cadineshsinghal@gmail.com).
Youtube Channel – CA Dinesh Singhal
DISCLAIMER: The views expressed are strictly of the author. The contents of this article are solely for informational purpose and for the reader's personal non-commercial use. It does not constitute professional advice or recommendation. Author do not accept any liabilities for any loss or damage of any kind arising out of any information in this article nor for any actions taken in reliance thereon. Further, no portion of our article should be used for any purpose(s) unless authorized in writing.