Press Information Bureau
Government of India
Ministry of Electronics & IT
15-December-2016 17:25 IST
Digidhan Mela for Digital Payment Options on 17th- 18th December, 2016
DigiDhan Mela is being organized by the Ministry of Electronics and Information Technology (MeitY) at Major Dhyanchand National Stadium, Delhi to create awareness about the benefits of Digital Payment option. The two-day event (17-18 Dec, 2016) aims to handhold. It also aims to handhold users in downloading, installing and using various digital payment systems for carrying out digital transactions. The initiative plans to enable citizens and merchants to undertake real-time digital transactions through the DigiDhan Bazaar.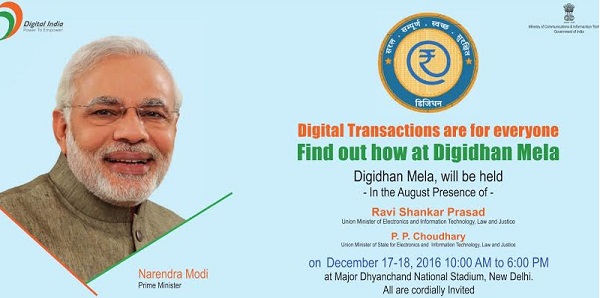 The event will witness participation from banks, telecom companies, mobile wallet operators, transportation network companies, Aadhaar enabled payment system (AEPS) vendors, Department of Post, merchants (through marketing associations), co-operatives like Kendriya Bhandar and organised retail fruits and vegetable chains like Safal, milk booths, agricultural produce marketing committees etc.
The participants will be explaining various options available for digital payments, they will also be assisting visitors in downloading and installing various mobile apps for digital payments and helped them do one digital transaction. During the two-day event, help will also be extended to citizens for opening their bank accounts, to enrol them into Aadhaar and to enable their existing accounts into AEPS accounts.
Citizens who wish to be enrolled in Aadhaar are requested to carry the following:
A proof of identity with name and photo
Proof of address
Proof of date of birth (PAN card, Passport or Birth Certificate)
Citizens should carry their bank account details to enable the apps.
Merchants are requested to carry the following documents to digitally enable their accounts:
Company proof
PAN Card (of the proprietor and the company)
KYC (Driving License/Passport/Aadhaar Card/Voter ID) – Any one
Bank account details and IFSC Code
DigiDhan Mela will be followed up by camps organised at State level and at bank branch levels. This Mela is primarily targeted at urban populace and looks to supplement the rural effort of promoting digital payments being led by the Common Services Centres. The Mela will provide free WiFi to enable citizens to download and install mobile apps for aiding on the spot digital payments.