HOW TO SURRENDER AN IMPORT-EXPORT CODE LICENSE?
In a rapidly changing world, the potential for export and import of services and goods has increased. No matter if you're a partnership or a corporation it is possible of profiting from the sale of your top products abroad. The outbreak has forced the restructuring of many companies involved in exports and imports. In this regard, a company can give up its current license to import and export which is officially known as the IEC (Importer-Exporter Code). Do we discuss simple steps in surrendering an export or export license?
Meaning of IEC Surrender
There are instances where one begins an import/export company and has all the required legal requirements and has all the necessary registrations required to begin this type of business. However, throughout the business, one might be required to close the business, or close the company, or could be forced to close certain divisions of the company due to a variety of reasons. In these instances, you may be required to take away the IEC License.
If the IEC Holder voluntarily cancels his right to make use of the IEC in any way this is known as IEC Surrender.
If an IEC License is not in usage anymore or the IEC Holder does not intend to make use of the license, it is possible to give up the license instead of renewing it every year.
What is an IEC License?
Import Export Code (in short IEC Code) is a 10-digit number issued to the Directorate General of Foreign Trade under the Ministry of Commerce and Industry to any genuine business or individual to carry export and import. Importers aren't allowed to move forward without this code and exporters cannot avail of the benefits of exports made by DGFT, Customs, and Export Promotion Council if they don't have the IEC Code
When can your IEC be canceled?
By the guidelines formulated by DGFT, only one IEC is issued for only a single PAN number. Each proprietor is allowed only one IEC number. If there is more than one IEC assigned to an owner they can be given in the office of the region to be canceled. If this isn't completed, the department may issue penalties or take the code off the books.
When should you surrender your IEC License?
When one closes down his / her Business.

When the IEC holder winds up his / her Company.

When the IEC Holder sells his / her business of Import and Export Code.

When one closes the division of the Import export in the business.

However, As The IEC is a ten-digit code granted on the individual PAN or company PAN, One should not surrender an existing IEC number that is not linked with the PAN and apply a new one.

As the Importer / Exporter shall not be able to apply again for IEC with the same PAN even if he gets numeric IEC surrendered/canceled.
Documents and Details required for IEC Surrender:
Registered Email Address and Password

Firm Name

Location and Address of the Business

PAN Card of the IEC Holder

IEC License Number

The enclosure of the original IEC certificate

Covering letter addressed to the Additional Director General of Foreign Trade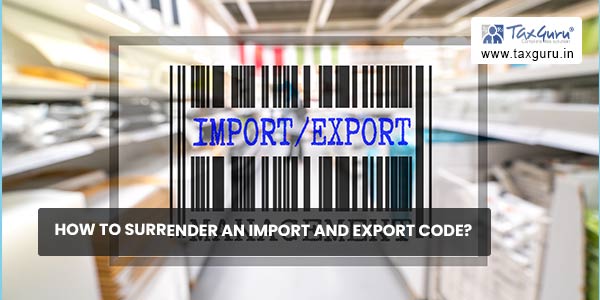 Step by Step Procedure for Surrendering IEC Code:
Step 1: Log in to the DGFT's official website at https://iecportal-india.org.in/ and choose the tab 'Services' from the homepage 
Step 2: From the drop-down menu on services, choose 'IEC Profile Management'. If you aren't already logged in, you can also choose to directly reach this page using thehttps://iecportal-india.org.in/
Step 3: On this page, you would be able to see several options such as the prerequisites and processes involved with the IEC. Scroll down the page until you see the option 'Surrender IEC' 
Step 4: On this page, the website will ask you to log in with your registered email address and password. If you do not have an existing one, you can also create a new profile at this stage by filling in details such as your mobile number, pin code, district, state, and city. 
Step 5: After logging in, check in the relevant business details such as the PAN number, firm name, etc., and click on 'surrender'.  
Step 6: The IEC, once successfully suspended, will be revoked for all future transactions. 
Suspension of IEC And Surrendering of IEC:
If a suspension is imposed it is enforced by DGFT in contrast to the surrender request made by a person on their own. The DGFT officials may suspend any IEC if they believe it hinders trade relations between India with other countries. The suspension can only be initiated following the giving of the IEC owner the opportunity to present his position. If any IEC number is canceled or suspended, that person will not be able to export or import any goods except for a specific license
Kindly note:
Once your IEC is surrendered, the issuing Authority will inform all the concerned departments such as the RBI, Customs, and Licensing Authorities that the said IEC Number has become inactive.