Government of India
Ministry of Commerce & Industry
Department of Commerce
Udyog Bhawan, New Delhi
Public Notice No. 34/2015-2020
Dated the 10th November, 2021
In exercise of powers conferred under the paragraph 2.04 of the Foreign Trade Policy 2015­-20, the Director General of Foreign Trade hereby includes the following agency in Appendix 2G of Appendices and Aayat Niryat Forms of Foreign Trade Policy 2015-20 in terms of Para 2.55 (d) of HBP 2015-20 with immediate effect :-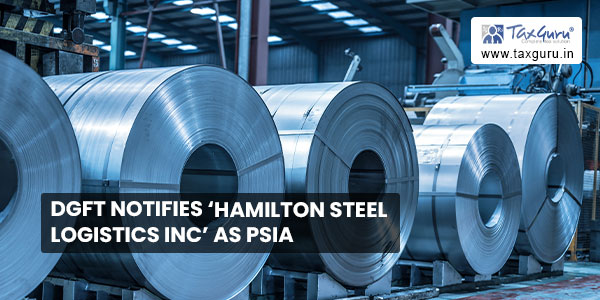 S.No. 1
M/s Hamilton Steel Logistics Inc
Area of Operation
Valid Upto
Address of
Head Office
Unit-101, 2-42 Keefer Ct, Hamilton, ON, L8E 4V4, Canada

Email: [email protected]

Canada
9th August 2024
2. The above agency is recognized for Pre-Shipment Inspection Certificates as per provision of Para 2.55(e) of HBP, 2015-20 from the date of issue of this Public Notice. Details of approved spectrometers and survey meters for issuance of PSIC by this agency are annexed.
3. The validity of PSIA may be curtailed at any time by this Directorate, subject to further orders in this regard.
4. The notified PSIA must ensure to update their membership certificate of MRAI/ISRI/IFIA and their office address and contact details within 30 days.
Effects of this public notice: Additional Agency, i.e., M/s Hamilton Steel Logistics Inc is notified as PSIA.
(Amit Yadav)
Director General of Foreign Trade
Email: [email protected]
(Issued from File No. 01/53/8/AM22/PSIA-1/ImportCell)
ANNEXURE to the Public Notice
Name of the
Appli-cant
Make
Model
SI. No.
Date of
calib-ration
Expi-ration
Date of
Calib-ration
Certi-ficate
Suppo-rting
docu-ments of
calib-ration
Date of
Pur-chase
invoice atta-ched
Copy of Photo-graphy Attached
Hami-lton Steel Logistics Inc.
Radia-tion
Survey
Meter
G

Scout

047665
18.06. 2021
17.06. 2023
Yes
18.06. 2021
Yes
RAD-COMM
Syclone
50046
26.10. 2021
26.10. 2022
Yes
10.01. 2013
Yes
Yes
Spectre
XD 2 EX
DETECT
18787
–
–
Yes
01.06. 2015
Yes
Yes