NOMINATION…. WHAT.. WHO.. WHY.. HOW MANY…?
Every time you fill up a form for an investment or opening a new bank account, there will be a separate section that will ask you to mention a 'Nominee'. Even if you are joining the job, the HR will ask you to fill the Nominee Form or if you are taking Locker in Bank, they will also ask you to fill the same requirement. This column is often left blank by a lot of people every time, but it shouldn't be and here's why.
What is Nomination?
Nomination is a process to nominate an Individual, who can claim the proceeds of the deposit account, investment or the safe deposit locker, post the demise of the original depositor, investor or locker holder.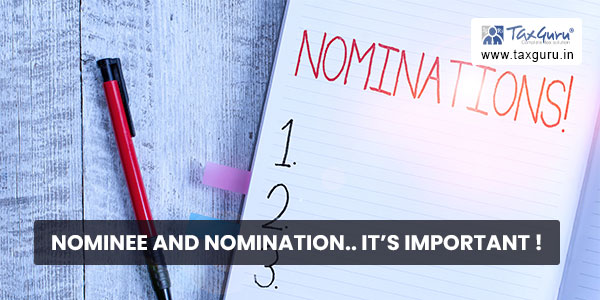 Who is a Nominee?
You can appoint any of the following people as your nominee and you can appoint separate nominee for your separate investments, banks or lockers.
Your first relatives- parents, spouse, kids, siblings
Your friend or any other relatives
Any other individual including a minor
Why is Nomination important?
Nomination is important for one key reason. In the case of a person's demise, it makes the process of transferring their investments to their nominee smoother. If no nomination has been made, the legal heirs of the person will have to go through a longer process in order to acquire the assets and investments.
How many Nominees can you appoint?
The exact upper limit for this varies from one investment to another. Generally bank accounts allow you to only one nomination per account whereas in LIC and PPF allow you to make multiple nominees.
Can you change the Nominee?
Yes, you can change the nominee for your investment, bank account or locker or in your job, at any time.
Conclusion
It is advisable to take out some time to regularize "nomination" in all your financial instruments, banks, lockers and assets. You will render them a huge help when they would need it the most.
*****
Disclaimer: – The entire contents of this document have been prepared on the basis of the information existing at the time of the preparation. Although care has been taken to ensure the accuracy, completeness and reliability of the information provided, I assume no responsibility therefore. Users of this information are expected to refer to the relevant existing provisions of applicable Laws. The user of the information agrees that the information is not a professional advice and is subject to change without notice. I assume no responsibility for the consequences of use of such information.