Introduction
Compounding is a settlement mechanism, by which, the offender is given an option to pay money in lieu of prosecution, thereby avoiding a long and lengthy litigation proceedings. Thus, it is short cut mean to get the default tag removed by paying a sum of money. It is beneficial for both the Government and Defaulter. Government gets some revenue for minor defaults and the offender will get their hands clean.
India is land with multiplicity of laws, rules and regulations. There are approx 20 lakh companies registered in India under the Companies Act. Due to complex legal statutes, it is very difficult for a common man to understand the laws applicable to the particular business. So, it is very obvious that companies may at time, knowingly or unknowingly, make a default in complying with a particular law. Reasons for the default may include Complexity of laws, Lack of awareness of laws, Lack of professional advice, Incapacity to hire professional consultants so on and so forth. It is also impracticable for the Government to launch the prosecution on each defaulting companies due to their limited resources. Indian courts are already overburdened with so many other important cases which should be taken on priority than minor violations of Company law. So, keeping all these in mind, Government has felt the need to have some kind of settlement mechanism for making good minor default of the law.
As a result, the compounding provision in the Act were inserted by the Companies Amendment Act, 1988 on the recommendation of the Sachar Committee Report.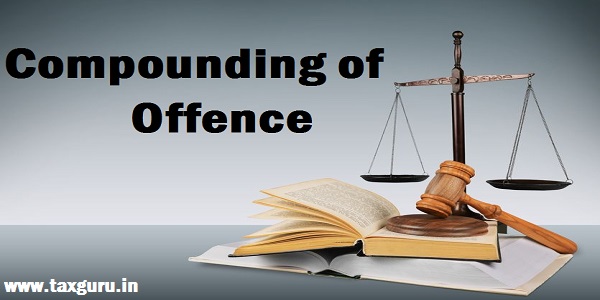 Compounding of an Offence under Companies Act, 2013
Section 441 of the Act deals with compounding of offences committed by companies or any officer thereof. The Act classifies the following classes of offences, which can be compounded:
> Offences punishable with fine.
> Offences punishable with imprisonment or with fine.
> Offences punishable with imprisonment or with fine or with both.
The following offences are classified as non-compoundable:
> Offences which are punishable with imprisonment only.
> Offences which are punishable with imprisonment and also with fine.
Further in the following situations, an offence, which, though is compoundable can't be compounded:
> Where any investigation against the company has been initiated or is pending under the Act.
> Where an offence has been committed by a company or its officer within a period of 3 years from the date on which a similar offence committed by the company or its officer was compounded.
Compoundable offences under Companies Act, 2013
1. Section 8 – Default in complying with the requirements relating to formation of companies with charitable objects etc
2. Section 26 – Prospectus issued in contravention of Section 26
3. Section 40 – Default in complying with the provisions of this section relation to securities to be dealt in the stock exchanges
4. Section 46 – Issuance of Duplicate share certificate in violation of Section 46
5. Section 68 – Violation of any provisions of buy-back of securities
6. Section 74 – Failure to repay deposit
7. Section 88 – Failure to maintain register of members
8. Section 99 – Violation of any provisions of AGM
9. Section 128 –Books of Accounts
10. Section 129 – Financial Statements
11. Section 147 – Contravention of any provisions of Section 139 to 146 w.r.t Audit
12. Section 166 – Violation of Section 166 w.r.t duties of Directors
13. Section 167 – Vacation of office of Director
14. Section 178 – Contravention of Section 177 i.e Audit Committee and Section 178 i.e Nomination and Remuneration Committee
15. Section 184 – Disclosure of interest by Director
16. Section 185 – Loans to Director in violation of Section 185
17. Section 187 – Investment of company in its own name
18. Section 188 – Related Party Transactions
19. Section 204 – Secretarial Audit
Non-Compoundable Offences under Companies Act, 2013

1. Section 58 – Contravention of order of Tribunal for registration of shares
2. Section 67 – Restrictions on Purchase by Company or Giving of Loans for Purchase of its Shares
3. Section 118 – Tempering of minutes of any corporate meeting
4. Section 127 – Failure to distribute dividend
5. Section 182 – Violation is political contribution
6. Section 186 – Violation of Section 186 i.e Loans and Investment
Appropriate Authority for Compounding under Companies Act, 2013

The authority for compounding of offences under the Act are:
> National Company Law Tribunal (NCLT) and
> Regional Director (RD) of Ministry of Corporate Affairs, where the maximum amount of fine which may be imposed for such offence does not exceed Rs. 25 lakh.
Procedure for Compounding of an offence under Companies Act, 2013

1. Call the Meeting of Board of Directors of the Company.
2. Calculate the amount of fine involved both on Company and officer in default as per the relevant section.
3. Hold the Board Meeting:
To pass a resolution to file an application with the authority for compounding of offence;
To authorize director or officer of the Company to sign and submit the application;
To appoint professional to appear before the authority.
4. Preparation of Compounding Application.
5. Filling of e-Form GNL-1 attaching an application. Based on the quantum of fine involved, an application will be forwarded by RoC, to the NCLT or Regional Director, after its comment.
6. Hearing before the NCLT or RD.
7. Passing of an order by NCLT or RD.
8. Intimation of order of NCLT or RD to RoC within 7 days.
9. Payment of compounding fees.
FAQs on Compounding of offence under Companies Act, 2013

Q. 1. Whether joint application by Company and officers in default are allowed?
Ans. Yes.  Joint application for the same offence is permitted. Since facts leading to any non-compliance will be the same, separate application will only lead to multiplication of proceedings.
2. Who is authorized to file an application?
Ans. Any director of the company authorized by its board in this behalf is eligible to file compounding application on behalf of the company.
3. Who are the officers in default?
Ans. As per Section 2(60), a Whole time Director (WTD) and Key Managerial Personnel (KMP) shall always be the officers in default. Further, in case of a company where there is no KMP, officers in default shall be those directors who are identified by the board in this respect and who also consent to act as such. If no such director has consented as such, all directors shall be officers in default.
4. Whether making good the default before filing a compounding application is mandatory?
Ans. Yes.
Conclusion
Compounding is a golden opportunity for any defaulting entity or person to come forward, admit the default and make the same good. Though, compounding is the most appreciated tool for settlement of less grave defaults, it is important for the corporates to ensure that no such defaults occur in the very first place. For that, corporates need to monitor compliance of law on real time basis and to ensure that no compounding is required to be done ever in the life circle of the company.