Chamber of Tax Consultants has made a request to Finance Minister Smt. Nirmala Sitharaman that a blanket extension of time upto 30th of April is granted for all statutory compliances and if the situation of Covid-19 worsens further extension for such compliances and also for payment of taxes be considered. Text of the representation is as follows:-
Dated:- 18th March 2020
To,
Smt. Nirmala Sitharaman
Hon'ble Finance Minister,
Ministry of Finance, North Block,
New Delhi 110 001.
Hon'ble Madam,
Sub: Tax Laws – Covid-19 – extension of statutory due dates
The Chamber of Tax Consultants, established in 1926, is one of the oldest non-profit organizations of tax practitioners of Mumbai, having Advocates, Chartered Accountants and Tax Practitioners as its members. Many senior tax professionals who regularly appear before ITAT, high courts and the Supreme Court are its Past Presidents. We have been making regular representations before various government agencies.
One of the Chamber's objects is to act as a bridge between stakeholders and concerned regulatory bodies in order to convey and help in resolving genuine grievances or effective implementation of laws.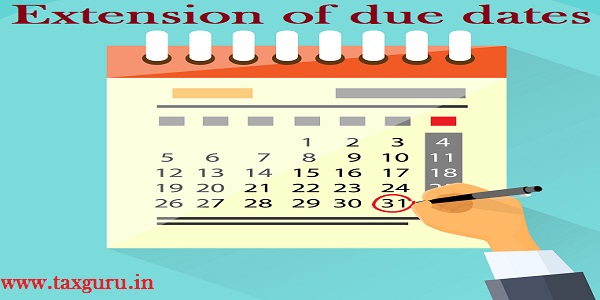 Fear of the coronavirus known as Covid-19, is increasing day by day. WHO has declared it as an pandemic crisis and each country including India is taking actions which would reduce the panic. March is the last month of the Financial Year and therefore has its own importance.
Presently, due to the risk of Covid-19, many of business houses are either virtually shut or working with lower capacity. In various cities the government or the local municipal corporation has already declared to work from home and/or to work at 50% of the capacity.
In this scenario it is unjust to expect the taxpayers to pay taxes & file statements/returns whose deadlines are in the month of March. It would be just that a blanket extension of time upto 30th of April is granted for all statutory compliances and if the situation of Covid-19 worsens further extension for such compliances and also for payment of taxes be considered.
Yours faithfully,
For THE CHAMBER OF TAX CONSULTANTS
Sd/-
Vipul K. Choksi
President
Sd/-
Mahendra B. Sanghavi
Chairman
Sd/-
Apurva R. Shah
Co-Chairman
Law and Representation Committee
c.c. 1) Chairman – CBDT
2) Chairman – CBIC