#AD
The stock market is a traditional method of money-making, and there are various methods of stock trading you can choose from. Each of them has its pros and cons. The best and the most profitable trading type will depend on the kind of trader you are. It is up to you to decide which of the following methods would suit your trading instincts and earn you money. Let's explore the type of trading styles associated with the stock market.
Profitable Trading Methods 
The following are widely-accepted methods of trading in the stock market, and different individuals can choose one as per their trading style and risk appetite:
Delivery trading:

Delivery trading is the process of buying and keeping the stocks in your demat account for more than one day. The time of keeping the stocks can vary from two days to two or more years, but you are not allowed to sell them on the same day. The main advantage of this method is that it lets you gain from a stock's long-term profits and does not require you to book a loss.
Intraday trading:

This

trading type

makes you buy and sell your stocks on the same day before the market closes. You need to track your market position the entire day, looking for a good opportunity to sell your stocks. Intraday trading is a great method of making fast profits provided you invest in the right stocks.
Margin trading:

Margin trading is mostly useful while trading in futures and options. You are required to buy a set of securities for which an initial margin price needs to be paid to the broker. This margin is a percentage of the total traded portion predetermined by regulations from the Securities & Exchange Board of India (SEBI). This

trading type

makes use of leverages to multiply profits and losses.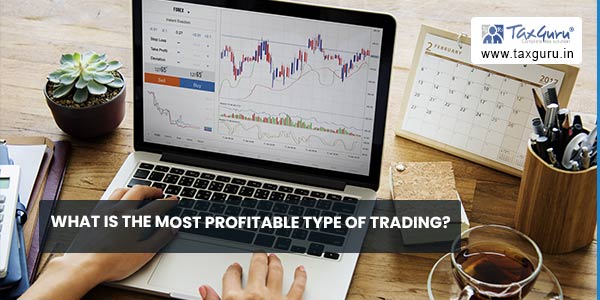 Short-sell trading:

Here, traders simply believe that the market is bearish and act accordingly. You borrow shares from a broker and sell them in the open market. You wait until the price falls enough for you to buy the stocks back at a lower rate. The difference acquired by this process is the profit.
Buy Today Sell Tomorrow (BTST):

This

trading type

is a modification of the delivery trading style. You buy a stock and decide to sell it the very next day or when you sense an opportunity of profiting. You don't need to get delivery of your stocks and thus, it saves you the depository participant (DP) charges.
Sell Today Buy Tomorrow (STBT):

This

trading type

is for the derivatives market, which you expect to be bearish. First, you enter a short-selling position and sell the securities before the market closes. The next day you expect to buy the same securities at a lower rate, thus, squaring off your position.
Matching Trading Methods with Types of Traders
There are mainly two types of traders, namely 'experienced' and 'novice'. Apart from these, there are some short-term traders who play with low or high risk. The listing below is the suitable combination of stock trading styles with different traders for the most profitable returns: 
Experienced:

Experienced players take high risks and expert trading strategies generally opt for intraday trading, short selling, and margin trading. Among these, short-sell trading is the most popular trading method for expert traders who have a deep understanding of market fluctuations. It is a matter of practice and expertise to gauge when and where to sell and buy your securities.
Novice:

New and novice players often opt for delivery trading to minimise their risk factors. With the proper guidance of an expert broker, novice traders can also try margin trading techniques to gain substantial profits. These methods offer better risk coverage and require traders to remain patient throughout the process. Long-term trading is best for novice traders as it gives them a second chance to recover from a market dump.
Quick players:

People who want to gain fast and don't have the patience to stay put in the market mostly opt for the BTST and STBT strategies. Intraday trading is another useful method to gain profits in a day. In most cases, quick players are intermediate traders who don't have much expertise but end up losing patience when asked to stay put for a long time.
Wrapping Up
Before adopting a particular trading strategy, you must first consider your financial expectations and your risk tolerance. Some of the above trading types are good for making a quick profit, while some can be used to grow wealth. The most profitable method depends upon your trading habits and risk-taking capacity. If you are a beginner in stock trading, do your research and gain knowledge about the best market strategies with ShareKhan.