PRODUCER COMPANIES:
'Producer Company' means a body corporate having objects or activities specified in section 581B and registered as Producer Company under this Act;
Now the matter is what are these objects or activities specified in Section 581B?
581B. OBJECTS OF PRODUCER COMPANY
(1) The objects of the Producer Company shall relate to all or any of the following matters, namely: –
(a) production, harvesting, procurement, grading, pooling, handling, marketing, selling, export of primary produce of the Members or import of goods or services for their benefit: Provided that the Producer Company may carry on any of the activities specified in this clause either by itself or through other institution;
(b) processing including preserving, drying, distilling, brewing, vinting, canning and packaging of produce of its Members;
(c) manufacture, sale or supply of machinery, equipment or consumables mainly to its Members;
(d) providing education on the mutual assistance principles to its Members and others
(e) rendering technical services, consultancy services, training, research and development and all other activities for the promotion of the interests of its Members;
(f) generation, transmission and distribution of power, revitalisation of land and water resources, their use, conservation and communications relatable to primary produce;
(g) insurance of producers or their primary produce;
(h) promoting techniques of mutuality and mutual assistance;
(i) welfare measures or facilities for the benefit of Members as may be decided by the Board;
(j) any other activity, ancillary or incidental to any of the activities referred to in clauses (a) to (i) or other activities which may promote the principles of mutuality and mutual assistance amongst the Members in any other manner;
(k) financing of procurement, processing, marketing or other activities specified in clauses (a) to (j) which include extending of credit facilities or any other financial services to its Members.
(2) Every Producer Company shall deal primarily with the produce of its active Members for carrying out any of its objects specified in this section.
Highlights and important points for the incorporation of Producer Companies
1. No. of Person Required in Producer Companies: Any ten or more individuals, each of them being a producer or any two or more Producer institutions, or a combination of ten or more individuals and Producer institutions
2. Digital Signature Certificate: DSC required for all the 10 Persons
3. DSC Process: For DSC, we need PAN, Aadhar, Mobile, Email & Colored Passport Size Photo of all the 10 perosns
4. Director Identification Number: After getting DSC Done, we have to go for the DIN approval (Basically we need DIN for directors only but for the easy approval we can take the DIN of subscribers as well)
5. Name Approval (Spice+ Part A): After getting DIN, what we need to apply for the Name approval
6. Documentation Process: After getting Name approval, which is valid for only 20 days we have to prepare the documents of directors, subscribers, MOA, AOA, NOC etc. and get it signed by all the directors and subscribers
7. Spice+ Part B: This web form need to be filled with all the details as given in web based form.
8. Attachments: In producer company, MOA & AOA is attached in this spice form with all the other attachments. Apart from MOA & AOA other attachments are also going to be attached like Directors and Subscribers documents, Electricity Bill, NOC, Rent Agreement if required and one mandatory and important attachment that is Agricultural Department Certificate.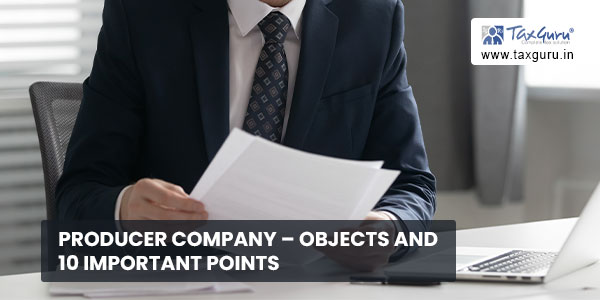 9. Agriculture Department Certificate: As an attachment, this certificate is mandatory to be attached. Without this certificate, CRC will not give approval to the incorporation of the company now question arises what is this department certificate so here we are providing you the brief details of the same: Department certificate is a certificate certified by any Deputy officer, Assistant officer of the agriculture department or any other tehsildar or collector that declare all the subscribers mentioned in this certificate are the farmers of the particular district in which proposed company is going to be registered. Also this certificate must be on the letter head of the particular department with the reference number and kahsra/ kahautni of the registered office land.
10. Filing of Form: After filling the web based form, PDF's are generated which is digitally signed and uploaded on the portal, after that approval will be done within 2 to 3 working days. If any re-submission will be there, need to rectify the re-submission points and resubmit the form with the same process.