Haryana Govt. Presents Rs 1.55 lakh Cr. Budget for the 2021 -22 Fiscal Year. Health, Agriculture, and infrastructure Are the Key Priority Areas
Haryana government proposed Rs 1.55 lakh crore budget for the 2021-22 fiscal year on Friday. In the budget, the government kept health, agriculture, and infrastructure in the key priority areas in order to continue assisting farmers and building the ways of Haryana's economic growth.
The budget proposed by Manohar Lal Khattar is Rs. 1,55,645 crore which is 13 percent higher than the budget proposed in the FY 2020-21. The Budget has no fresh tax proposals. Rs 38,718 crore which is 25 percent of the Budget outlay is proposed for capital expenditure and Rs 1,16,927 crore that is 75 percent of the budget outlay is proposed for revenue expenditure.
Presenting the budget in the House, Haryana chief minister Manohar Lal Khattar said, "Pandemic posed unusual challenges for us. This brought our economy to a standstill, but it has also taught us several lessons where we can learn and move forward cautiously."
He further added "It is vital for the budget to give priority to the specific sectors over others which is less important in the time of crisis. We have prioritized health, agriculture, and infrastructure as key areas where we need to focus on recovery and revival."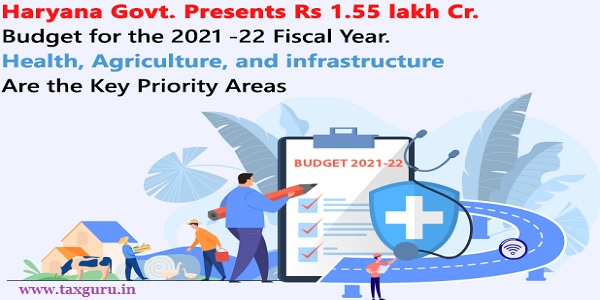 In the budget outlays of Rs. 6,110 crore, Rs. 2,998 crore is proposed for agriculture and farmers' welfare, Rs. 489 crore for horticulture, Rs 1,225 crore for animal husbandry & dairying, Rs. 125 crore for fisheries, and Rs. 1,274 crore for cooperation.
Presenting the estimates in the house Khattar said, "We are forever indebted to our farmers who toil for serving the food in our bowl. Agriculture is one of the pillars of our economy and we are committed to boosting it and ensuring farmers' wellbeing." He clarified, "this budget endeavors to reinforce our schemes for agriculture on increasing farmer's income, crop diversification and water conservation".
"It is important to support and nourish our interventions and schemes by providing critical infrastructure. Be it improving the health sector, boosting vaccination program, maximizing testing, farm gate processing infrastructure, irrigation including micro-irrigation facilities, we are committed to boosting each sector that are the pillars of our economy, he said.