Mumbai, July 9, 2016: Convocation is a day of well-deserved celebration. For students, it signifies the completion of their course and the beginning of an exciting new chapter in their lives. TimesPro held its 1st Student Annual Convocation (TASC) in Mumbai.  The convocation ceremony marked TimesPro's 3 year journey of student excellence; and commitment towards employee oriented training.
Nearly 250 students across India gathered to be felicitated by Mr. Arnab Goswami, President & Editor-in-Chief, Times Now & ET Now; present were veteran bankers who include, Mr. Ranga Subramaniam Vertical Head, HR, Sales Channel, HDFC Bank; Mr. Anil Chopra, Group CEO & Director, Bajaj Capital; Amit Malik, Chief People Office, Aviva Life Insurance India Ltd;Dr. Pawan Agarwal, Dabbawal association; among other luminaries from the BFSI sector who did the honours.
Encouraging students to achieve their goals, Arnab Goswami, President and Editor-in-Chief, Times Now and ET Now quoted, "I am honored to be a part of TimesPro's Annual Student Convocation 2016 (TASC).  I would like to pass on good wishes to the students for their successful career ahead. Addressing the students, he added, "While industry education is important, to be successful, one should jump into the unknown, disrupt ruthlessly and learn from one's mistakes."
Mr. Goswami concluded by saying, "Success is not plans drawn on excel sheets, to achieve one's goal, one has to forget and let go what the peers say. It is inner gut and intent that will help one be a successful person in life."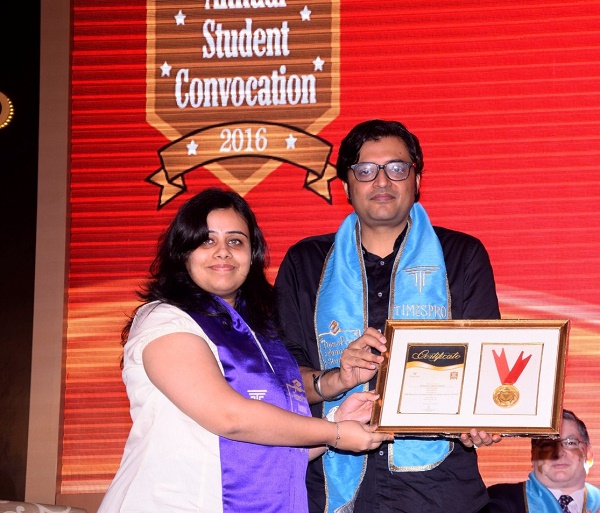 Arnab Goswami, President & Editor-in-Chief, Times Now & ET Now
Anish Srikrishna, President, Times Centre for Learning Limited, said, "It is a proud day for everyone associated with TimesPro.  I am particularly proud to see more than 200 students present here, to celebrate this day with us. With our prime focus on learner-centricity and technology, TimesPro will strive to frame the future of learning.  Focusing on the nation's mission to 'Skill India' and to educate our youngsters for infinite employment opportunities, TimesPro will deliver excellence in blended learning through technology and e-learning."
Mr. Srikrishna further added, "Launched by the Times of India group just over three years ago, TimesPro has set for itself an audacious vision to fulfill aspirations of millions of learners, by making excellence accessible, through learner-centric innovations and global collaborations. TimesPro will also introduce interesting programs in areas as diverse as digital marketing, big data analysis, media & entertainment, etc. We will also provide ongoing mid career training opportunities to senior executives to address specific gap years."
The event brought together eminent industry veterans from the banking, finance and skill development sectors that closely interacted with the students and shared anecdotes giving them key insights into the workings of each industry.
Focusing on the imperative need of skill development and team-work, Dilip Chenoy, Former Chairman, NSDC quoted, "A convocation ceremony marks and recognizes the efforts and hard work of the students.  With the immense potential for employability in the finance sector, the education system must not only be tailored to impart the right knowledge, but should also a practical methodology as well. To be a relevant part of leading organizations, the candidates must have the required skill sets, optimum job knowledge and the right attitude."
Mr. Chenoy, further added, "Employers today look for candidates that can deliver and meet timelines. Therefore, students have to be goal oriented and dedicated towards achieving them."
Focusing on the efficient supply chain and time management skills of the 'dabbawalas' in Mumbai, Dr. Pawan Agarwal, said, "It is important to always plan in advance and account for unknown variables that may cause hindrance. For instance, irrespective of delayed local trains, the dabbawalas always ensure that the tiffin's are delivered on time. He further added, "It is important to value selflessness and work for the betterment of others along with your personal growth."
Organized in light of TimesPro's placement record of 95%, the ceremony witnessed 15 students from various cities being awarded gold medals for professional excellence and their stellar performance in academia :-
| | | |
| --- | --- | --- |
| Category | Zone | Name of the Student |
| President's Award | South | Priyanka Meduthuri |
| TimesPro Zonal SPARTAN | North | Suman Kumari |
| TimesPro  Zonal SPARTAN | East | Udita Nagar |
| TimesPro  Zonal SPARTAN | South | Kodithala Manikanta |
| TimesPro  Zonal SPARTAN | West | Ravjyot Singh Anand |
| Course Proficiency – PGDBM | West | Mohit Arora |
| Course Proficiency – PGDF&A | East | Tarita Mukherjee |
| Course Proficiency – PGDBA | South | Priyanka Raosaheb Sawant |
| Course Proficiency – MBP | South | Praveen Kumar Y N |
| Course Proficiency – VRM | West | Preeti Kiran Pai |
| Course Proficiency – Bajaj Capital | North | Geetika Gupta |
| Zonal PGDBM Topper | North | Mohit Arora |
| Zonal PGDBM Topper | East | Alok Kumar Jaiswal |
| Zonal PGDBM Topper | South | Srimarthi Binitha Rani |
| Zonal PGDBM Topper | West | Sejal Bhandari |