This is normally seen that most of the employees and workers not properly aware about how properly maintain his or her UAN and PF account.  Also, they are operating this causally not understand the importance of its. But when they very need of it found them helpless and in very problematic situations.
Some of basic and common problems mentioned below they faces:
1. Do not know his or her UAN Number
2. Do not know how to use UAN portal and how to active UAN
3. What to do if two UAN generated wrongly by employer how to merge into one UAN number.
4. How to see passbook of their PF Balance
5. How to merge or transfer all previous companies PF into one company
6. Companies left and shut down not able to contact to employer in that situation how to know their UAN number
7. Have very old PF number how to generate UAN number for this
8. Employee can not withdraw or transfer his PF account amount due to his data mismatch as per records (do not match with the Aadhar details)
9. How to correct wrong details in UAN like date of birth, his name, father name etc.
Here is I try my level best to satisfy all these types of queries.
1st employee or worker should take care below things which help him much more to operate properly his UAN employee portal.
1. Keep update his or Aadhar details with correct data of him like proper full name, date of birth etc
2. His or her mobile number must be linked with Aadhar
3. His or her Bank name should be match with the Aadhar details
4. His or her PAN details should be match with the aadhar.
Now if you know your UAN number (you can find it in your monthly pay slip or ask to your HR)
Then activate this.
Go to browser
https://unifiedportal-mem.epfindia.gov.in/memberinterface/
Provide your Uan Number
Name and
Date of Birth
And click
You will get otp on your registered mobile number
Submit that and you will redirected to generate password.
If you do not know your UAN number
Click on know your UAN
–
You will receive your UAN number on your mobile number.
If you have your PF number but do not have UAN, to know UAN follow below process
–
After successful UAN activation and registration to you on EPFO member UAN portal. Keep log in and do first few below things on priority.
1. Submit Nominee details
2. Upload and submit all your basic KYC details Bank detail with IFSC code, Aadhar detail and Pan detail. (after submission this will go employer for DSC approval)
3. Check your service history (all employers details)
–
Provide UAn number and choose approval for present employer or past you want
This will go the employer for DSC approval after that its merged to one account.
4. Why two UAN generated for an employee and how to merge it into one UAN .
Mostly this type of errors was done in past few years before when Aadhar seeded details are not mandatory. For example an employee given his details to employee Pan etc. and his UAn generated after that he left the job and join another company but did not given his past UAN number to the current employer. Current employer also registers him into EPFO portal and generate an new UAN number.
If this type of error happened do one thing , must update your aadhar into both UAN numbers.
Once you update it then follow the process of one member one epf account and transfer old pf account details into new one.
If Employee cannot withdraw or transfer his PF account amount due to his data mismatch as per records (do not match with the Aadhar details)
And How to correct wrong details in UAN like date of birth, his name, father name etc.
Click on profile and check your details you will find a change button for all entries at the right
Click on that if details you want to change (make sure data should be correct in Aadhar) and submit this, this will go to employer for dsc approval.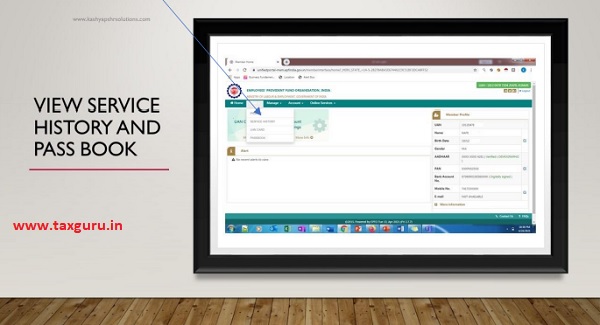 Please note if you are not able to change or correct your data online in that case you can do it manually also. For that purpose, you need to download "Joint declaration form" from EPFO site. And provide in the field which one date need to correct. (attached proper documentary proof ) duly signed by this by both employee and employer and submit to EPFO office. This will take few days' time to correction.
After all these successful doing. Now you are able to do below things.
1. See your EPFO Passbook
2. Transfer your EPFO balance from previous companies
3. Housing loan from PF
4. Medical Loan from PF
5. Covid-19 Loan from PF
For all these above click on Online services button on the top right.
I hope the above article would be useful for the viewers.