A contract is a legally binding agreement between the parties identified in the agreement to fulfill all the terms and conditions outlined in the agreement. Contract management plays a vital role in all the companies and determines financial health and also indicates how best the funds are invested and utilized. Contract management is the process of managing contract creation, execution and analysis to maximize operational and financial performance of an organization while reducing financial risk. Organizations encounter an ever-increasing amount of pressure to reduce costs and improve company performance.
Contract management is the process, which ensures that all the parties to the contract fully meet up their respective obligations as efficiently and effectively as possible, in order to deliver the business and operational objectives required from the contract.
Contract failures lead to inefficient performance, financial losses, and disruption of work; Disputes & initiation of arbitration and litigation; loss of reputation; and other direct and consequential losses.
Since Contractual Terms & its Interpretations are cause of most of the disputes, litigations, therefore there is need for Common understanding and interpretation of Contracts. FIDIC Contracts have been developed over 50 years as the international standard for the Consulting Industry. They are recognized and used globally in many jurisdictions, on all types of projects. 
What is FIDIC 
The International Federation of Consulting Engineers (commonly known as FIDIC, acronym for its French name Fédération Internationale Des Ingénieurs-Conseils) is an international standards organization for the consulting engineering & construction best known for the FIDIC family of contract templates.
The fact that the organization has a French title bears testimony to its foundation in 1913 by three wholly or partly francophone countries, Belgium, France and Switzerland.
FIDIC conditions of contract are increasingly being used in the international construction industry and in projects financed by international development banks.
A condition for successful international expansion, the consulting engineer, contractor or other professionals involved in management of works contracts need to be conversant with the main FIDIC Contracts. FIDIC is well known in the consulting engineering field for its work in defining Conditions of Contract for the Construction industry worldwide.
The key ingredient for their success as industry standard lies in their balanced approach to the roles and responsibilities of the main parties, as well as the allocation and management of risk.
For this reason, the fundamental principle behind the FIDIC contracts is the use of General Conditions of Contract, deemed to be suitable in all cases, based on thousands of successful projects around the world.
However, given that no two projects are the same, FIDIC does acknowledge that special conditions will be required for project specific issues, on a case by case basis.
All FIDIC contracts therefore contain guidance on the preparation of Particular Conditions, and provide examples of the areas where special provisions may be required for a specific project.
To diverge significantly from these guidelines is to increase the risk of shifting the balanced nature of the contract, and putting into jeopardy the successful implementation of the project.
Experience in different countries and with different kinds of client, suggests that changing or upsetting the balance of risk-sharing in FIDIC contracts typically results in higher tender prices; delays to completion; additional time and cost claims; and, in the worst cases, major protracted disputes leading to arbitration, and sometimes to contract termination.
FIDIC contracts do provide guidance on project specific sub-clauses where Particular Conditions might be used.
FIDIC Currently located at the World Trade Centre in Geneva, Switzerland. Further details are available at www.fidic.org.
FIDIC: Strategic Objectives
FIDIC is charged with promoting and implementing the consulting engineer industry's strategic goals on behalf of Member Associations.
Its strategic objectives are to:
> represent world-wide the majority of firms providing technology-based intellectual services for the built and natural environment;
> assist members with issues relating to business practice;
> define and actively promote conformance to a code of ethics;
> enhance the image of consulting engineers as leaders and wealth creators in society;
> promote the commitment to environmental sustainability;
> support and promote young professionals as future leaders.
> FIDIC arranges seminars, conferences and other events in the furtherance of its goals: maintenance of high ethical and professional standards; exchange of views and information.
> FIDIC, in the furtherance of its goals, publishes international standard forms of contracts for works (Short Form, Construction, Plant and Design Build, EPC/Turnkey) and agreements (for clients, consultants, sub-consultants, joint ventures, and representatives), together with related materials such as standard pre-qualification forms
What does FIDIC do?
FIDIC is a global representative for the consulting engineering industry, promoting the business interests of firms supplying technology-based intellectual services for built and natural environments alike.
FIDIC is well known for its work drafting standard form Conditions of Contract for the worldwide construction industry, particularly in the context of higher value international construction projects, and is endorsed by many multilateral development banks ("MDBs").
Companies and organizations belong to FIDIC national member associations which now represent other professionals, such as architects. FIDIC also has affiliate members interested in its work, such as lawyers and insurers.
FIDIC organizes conferences, seminars and training courses and, until 2002, FIDIC ran FIDIC direct, the International Directory of Consulting Engineers, which is now run by ICONdirect. (see icondirect.net)
FIDIC: Rainbow Suite Standard Contracts
>  FIDIC publishes various standard contracts to be used for e.g. construction works, large-scale machinery supplies, infrastructure projects, consultancy services, etc.
> It has become the tradition that FIDIC contracts are known in popular parlance by the colour of their cover.
> Each contract applies to a specific area and is characterized by an individual colour label.
>  The contracts aim at distributing liabilities and risks on the relevant parties, but they are not "agreed documents", i.e. contracts negotiated and agreed between representative organizations (contrary to e.g. AB92, the Danish general conditions for the provision of works and supplies within building and engineering).
How to Select – Which Form of FIDIC Applicable
FIDIC Red Book is primarily intended for building and engineering works where the employer bears the design responsibility.
FIDIC Yellow Book is primarily intended for contracts on electrical/mechanical installations where the contractor bears the design and project planning responsibility,
FIDIC Silver Book is a turnkey contract.
All three contracts have been prepared for the purpose of tenders but may also, with a few adjustments, be applied without a preceding tender.
The advantage of applying the contracts is that they are all structured in the same way.
It is therefore easier for the tenderers to obtain an overview of the contracts and any deviations from the standard wording and, consequently, to quickly prepare a tender.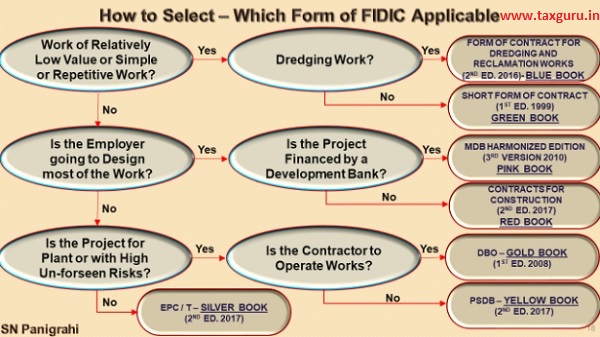 FIDIC – New Version of Standard Contracts
After 18 years of preparations, FIDIC has finally published the updated versions of the contracts Red Book, Yellow Book and Silver Book at the annual "FIDIC International Contract Users' Conference" in London on 5 and 6 December 2017 and constitute updates of the former editions from 1999, which can still be used.
All three contracts have been significantly amended with the core aim of the majority of the changes being increased clarity and certainty.
The new contracts are expected to be broadly applied similarly to the previous versions.
The new versions of the FIDIC
◊ Red Book,
◊ Yellow Book and
◊ Silver Book
were issued on 5 December 2017
In addition to the three contracts mentioned above, an updated FIDIC White Book to be applied for consultancy/advisory services was published in the spring of 2017.
FIDIC's Philosophy Behind the Update
> To enhance project management tools and mechanisms.
> Drafted by engineers experienced in design and construction.
> To reinforce the role of the "Engineer".
> To achieve a balance risk allocation. The aim here is more reciprocity between the parties.
> To achieve clarity, transparency and certainty (sounds like the NEC philosophy).
> To reflect current international best practice.
> To address issues raised by users over the past 17 years arising out of the use of the 1999 suite.
> To incorporate the most recent developments in FIDIC contracts, in particular the Gold Book, which was published in 2008.
The Parties in a FIDIC Contract
>  Contract between Employer & Contractor under Red/ Yellow FIDIC
> Contracting Authority/ Employer
> Employer– usually the financier and/or owner of the construction project contemplated. Carries the ultimate responsibility for the success of the project; The Employer includes the legal successors in title to the originally named Employer.
> Engineer– appointed by the Employer with delegated authority to oversee all aspects of the construction project contemplated; Contract between Employer & Engineer. Engineer to administer FIDIC Contract on behalf of Employer
> Contractor– selected expert in construction who has the necessary resources and expertise to execute all aspects of the contemplated construction project.
> Employer to appoint the 'Employer's Representative'
> Engineer is represented on site by a certain individual called Engineer's Representative
> Contractor's Representative has a single-point-of-contact during the performance of the contract
> Subcontractors– Selected by contractor, approved by Engineer, to augment specific works on a construction project where additional manpower or expertise are needed.
FIDIC 2017 edition : Contract Clauses
Designed as a companion for both the first-time and also more experienced user, the book presents an accessible guide to the 21 clauses of the FIDIC 2017
The Rainbow Suit Structure Grouping of Clauses
> General provisions (1)
> The Employer, Employer"s Administration OR Engineer, Contractor, Nominated Subcontractors OR Design (2-5)
> Staff and labor, Plant, materials and workmanship (6-7)
> Commencement, delays and suspension, Tests on completion, Employer"s taking over, Defects Liability, Tests after completion (8-11 & 12)
> Measurement and Evaluation OR Variations and Adjustments, Contract Price and Payment (12-14)
> Termination by Employer, Suspension and Termination by Contractor (15-16)
> Care of the Work and Indemnities (Risk and Responsibility) (17)
> Insurance (18)
> Exceptional Events (Force Majeure ) (19)
> Employer"s and Contractor"s Claims (20)
> Disputes and Arbitration (21)
FIDIC Golden Principles
FIDIC has has launched its Golden Principles to set out the essential characteristics of its general conditions of contract that should not be amended if the contract is to be regarded as a genuine FIDIC contract.
In a bid to safeguard the integrity of FIDIC contracts and to ensure that employers, contractors and the public are not misled about what is and what isn't a bone fide FIDIC contract, the FIDIC Golden Principles outline the essence of a FIDIC contract and articulate those essential characteristics of FIDIC's general conditions that should not be amended if it is to be recognised as a FIDIC contract.
The Golden Principles are the output of the work of a FIDIC task group (TG15) which looked at the essential characteristics of FIDIC contracts that must not be amended if it is to be recognised as a genuine FIDIC contract. Task group chair Husni Madi, who is also the CEO of Jordan-based Shura Construction Management, explained the thinking behind the principles.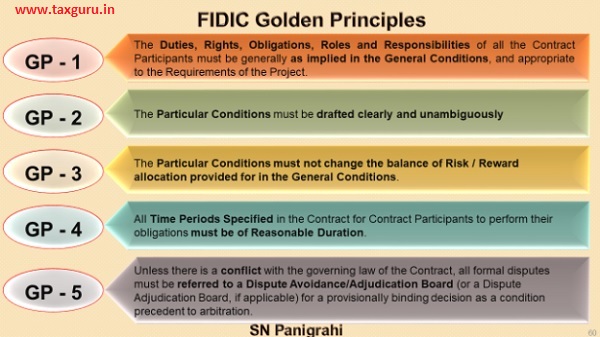 The FIDIC Golden Principles were launched at the FIDIC Asia Pacific Contract Users' Conference in Hong Kong on 25 June 2019. The 12-page guide, The FIDIC Golden Principles (First Edition 2019), outlines the five Golden Principles and explains in detail the reasoning behind each of them. Each of the five Golden Principles (GPs) are explained in the guide.

This is Brief Obstruct of Presentations made in Muscat, Oman on 15-19th Sep'2019
Disclaimer : The views and opinions; thoughts and assumptions; analysis and conclusions expressed in this article are those of the authors and do not necessarily reflect any legal standing.
Author : SN Panigrahi, GST & Foreign Trade Consultant, Practitioner, Corporate Trainer & Author.
Author is Available for Corporate Trainings & Consultancy and Can be reached @ [email protected]