Presenting the first Union Budget of the third decade of 21st century, Finance Minister Smt. Nirmala Sitharaman has releases Prominent Themes of Union Budget 2020-21 / Finance Bill 2020.
Budget Highlights (Key Features)
Prominent Themes of the Budget

GOVERNANCE
STRUCTURAL REFORMS
IBC
Honourable exit through IBC for companies.
GST
20 per cent reduction in turn around time for trucks.
Benefit to MSMEs through enhanced threshold and composition limits.
Savings of about 4 per cent of monthly spending for an average household.
In last 2 years, 60 lakh new taxpayers added and 105 crore e-way bills generated
DIGITAL REVOLUTION
Shift to DBT
During 2018- 19,  Rs. 7 lakh crore transferred through DBT.
Next wave
Digital Governance.
Improve physical quality of life through National Infrastructure Pipeline
Disaster Resilience.
Social Security through Pension and Insurance penetration.
INCLUSIVE GROWTH
Governance guided by "Sabka Saath, Sabka Vikas, Sabka Vishwas" with focus on:
Preventive Healthcare: Provision of sanitation and water
Healthcare: Ayushman Bharat
Clean energy: Ujjawala and Solar Power
Financial Inclusion, Credit s support and Pension
Affordable Hosuing
Digital penetration
FINANCIAL SECTOR
Deposit Insurance Coverage to increase from Rs.1 lakh to Rs.5 Lakh per depositor.
Eligibility limit for NBFCs for debt recovery under SARFAESI Act proposed to be reduced to asset size of Rs.100 crore or loan size of Rs.50 Lakh.
Proposal to sell balance holding of government in IDBI Bank.
Separation of NPS Trust for government employees from PFRDAI.
Specified categories of government securities would be opened for non resident investors
FPI Limit for corporate bonds to be increased to 15 per cent.
New debt ETF proposed mainly for government securities.
Macroeconomic Indicators
GDP Growth Rate (per cent)
CPI and WPI (per cent)
Net FDI
CAD/Forex (per cent)
Trends in Deficits
Debt
Tracking Progress in Numbers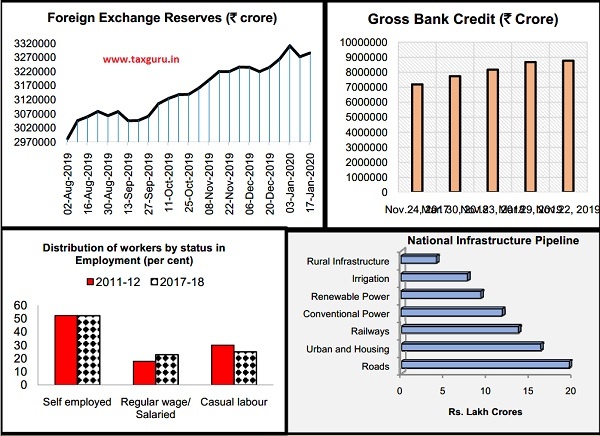 India is the 5th largest economy in the world in terms of GDP at current US $ Trillion.
Budget at a glance
Budget at a Glance
Tax proposals
♦ Concessional corporate tax rate of 15 per cent to new domestic companies in manufacturing and power sector.
♦ Tax concession for sovereign wealth fund of foreign governments and other foreign investments.
♦ Tax benefits to Start-ups by way of deduction of 100 per cent of their profits are enhanced by increasing turnover limit and period of eligibility.
♦ Concessional tax rate for cooperatives proposed.
♦ Turnover threshold for audit of MSMEs increased.
♦ Extension of time limits pertaining to the tax benefits for affordable housing.
♦ Issuance of Unique Registration Number to all charity institutions for easy tax compliance.
♦ Health cess to be imposed on imports of medical equipment given these are made significantly in India.
Agriculture, Irrigation and Rural Development
PM KUSUM to cover 20 lakh farmers for stand alone solar pumps and further 15 lakh for grid connected pumps.
Viability gap funding for creation of efficient warehouses on PPP mode.
SHGs run Village storage scheme to be launched.
Integartion of e-NWR with e-NAM.
"Kisan Rail" and "Krishi Udaan" to be launched by Indian Railways and Ministry of Civil Aviation respectively for a seamless national cold supply chain for perishables.
Elimination of and brucellosis in cattle and PPR in sheep and goat by 2025.
Increasing coverage of artificial insemination to 70 per cent.
Doubling of milk processing capacity by 2025.
Agricultural credit target of Rs.15 lakh crore for 2020-21.
Fish Production target of 200 lakh tonnes by 2022-23.
Another 45000 acres of aqua culture to be supported.
Fishery extention through 3477 Sagar Mitras and 500 fish FPOs.
Raise fishery exports to Rs.1 lakh crore by 2024-25.
Wellness, Water and Sanitation
Coverage under 35 Nikshay Poshan Yojana (Rs. Lakh)
More than 20,000 empanelled hospitals under PM Jan Arogya Yojana.
FIT India movement launched to fight NCDs.
"TB Harega Desh Jeetega" campaign launched to end TB by 2025.
Viability gap funding proposed for setting up hospitals in the PPP mode.
Expansion of Jan Aushadhi Kendra Scheme to all districts by 2024.
ODF Plus to sustain ODF behaviour.
Focus on liquid and grey water management along with waste management.
Education and Skills
About 150 higher educational institutions will start apprenticeship embedded courses.
Internship opportunities to fresh engineers by urban local bodies.
Special bridge courses to improve skill sets of those seeking employment abroad
New Economy
Knowledge Translation Clusters for emerging technology sectors
Scaling up of Technology Clusters harbouring test beds and small scale manufacturing facilities.
National Mission on Quantum Technologies and applications with an outlay of Rs.8000 crore proposed.
Industry, Commerce and Investment
Scheme to encourage manufacturing of mobile phones, electronic equipment and semi conductor packaging.
National Technical Textiles Mission for a period of 4 years.
NIRVIK Scheme for higher export credit disbursement launched.
Setting up of an Investment Clearance Cell to provide end to end facilitation.
Extension of invoice financing to MSMEs through TReDs.
A scheme to provide subordinate debt for entrepreneurs of MSMEs
Scheme anchored by EXIM Bank and SIDBI to handhold MSMEs in exports markets.
CORPORATE TAX RATE CUT
Infrastructure
National Logistics Policy to be Launched Soon.
Roads: Accelerated development of Highways.
Railways: Four station redevelopment projects
150 passenger trains through PPP mode.
More Tejas type trains for tourist destinations.
Port: Corporatizing at least one major port.
Air: 100 more airports to be developed under UDAAN.
Power: Efforts to replace cconventional energy meters by prepaid smart meters.
Gas Grid: Expand National Gas Grid to 27,000 km
Infrastructure Financing: Rs.103 lakh crore National infrastructure Pipeline projects announced.
An international bullion exchange to be set up at GIFT City.
Caring Society
Budget Allocation to Major Schemes
Expenditure of major items