#AD
Needless to say, in the regime of stringent statutory provisions, it is important to have a reliable software that not only helps in preparing TDS Returns but also takes care of the associated compliances.
A few pointers that may be useful to look at in a TDS software:
Process of Return Preparation
-Simple to understand and easy to use
-Data import from Excel & CSV files
-Quick generation of FVU file with auto CSI file validation
-Facilitate both online / offline Return filing
-Covers all TDS / TCS forms
-Instant guide / help.
Ensuring Return is free from Defaults
Validates PANs including Holder's Name
Checks for Short & Delayed Deductions
Validation of Challan information
Validates for 'Specified Persons' for higher TDS / TCS u/s 206AB & 206CCA.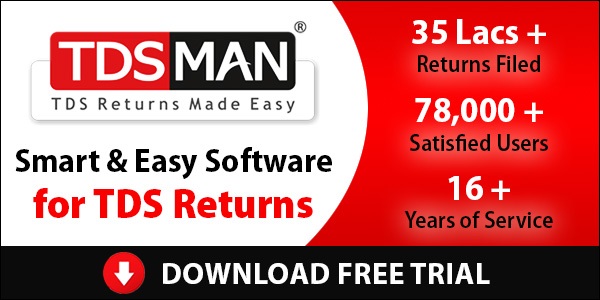 Capable to handle Correction Returns
Takes care of all type of Corrections
Easy handling of Default Notices
Simplified process for bulk correction.

Integration with TRACES & other Income Tax Portals
Online filing of TDS Returns
Download of TDS Certificates, Conso Files, Default Notices, etc.
Integration for PAN corrections & Challan additions
View of Challan utilization status.

Takes care of other compliances
Printing & Distribution of TDS Certificates
Provides data for the TDS section as required in Form 3CD (for tax audit)
Validation of certificates issued u/s 197.

Handling large data volume, wherever applicable
Capable to handle large data sets – say, even upto 50L records
Quick data import from Excel / CSV
Quick import of Conso files for Corrections
Fast generation of FVU file
Data reliability.

Response time for support and providing updates
Statutory changes are incorporated on-time
Updated software is deployed in shortest possible time – preferably online
Efficient support system with use of modern technologies
Availability of training modules and video based guidance
Among the dependable ones, TDSMAN is a popular choice as a reliable TDS software which has been serving for 16+ years. It is reasonable priced at Rs. 4,200/-. Even more important is their support systems which is evident from their large user base being present across India including the remote areas.
To evaluate the software Download TDSMAN. TaxGuru subscribers & readers may avail a discount of 10% on TDSMAN by using the Promo Code TGAJUL while placing order.