Businesses have been significantly disrupted ever since the outbreak of COVID-19. Work from home has become the order of the day and businesses must cope up with this new challenge. Tally being one of the most popular accounting tools, has inbuilt options to enable work from home. This requires simple configuration in the Tally Server where the license is installed and access to a specific Tally.Net User ID (email ID) for the 'Company' which should be accessed on remote. This article is a step by step guide to enable 'Work from Home using Tally ERP9'.
What is remote access in Tally ERP 9?
The Remote Access capability in Tally.ERP 9 lets a user access business data even while the person is away from your office.
This is made possible by the Tally.NET framework which provides a secure connection through trusted Remote Access.
NET which does not store any data, uses advanced encryption to ensure that it is not accessible to anyone outside the system.
In addition, the latest Release of Tally ERP 9, Version 6.6, has enabled "Browser" Access to various business reports. Through this, one can login from Mobile or Laptop and view reports over the Web Browser in a secured manner.
What are the essential requirements for enabling remote access?
A valid Tally License with a valid Tally Software Services License.
To check the validity of the Tally Software Services ("TSS"), click the panel "Licenses & Services" (short cut Alt + Ctrl + L) panel in the Gateway of Tally Window.
It is recommended to Upgrade to Tally Release 6.6 as Browser view is enabled through this.
It is to be noted that Tally on Remote can be accessed even on "Educational Mode". However, the Tally Server where the data is residing should have a valid License and TSS Subscription.
 What is Tally Software Services (TSS)?
Tally Software Services (TSS) is a set of capabilities that help add value to Tally.ERP 9. With TSS, additional capabilities such as continuous improvements to the product, central consolidation of all branch office data over secure servers, remote connectivity, banking services, instant support from within Tally.ERP 9, reports access from browser, and many more features that enhance business performance are available.
TSS gives you access to a broad range of services by connecting to the Tally.NET Server using your Tally.NET account. Tally.NET Server authenticates your Tally.NET ID and checks for an active TSS subscription before providing the requested service.
To Enable or Configure Remote Access feature in Tally.ERP 9:
In the Server Computer, Click on the Control Centre

Login as Tally.Net User with your Tally credentials. In case you have forgotten, reset the password.
Login to the Control Centre and the below screen appears. Click on User Management
Mention the email ID of the user you intend to give access in the below screen. Select 'Owner' from the list of 'Security Level'. Enter the required E-mail ID in 'Tally.NET ID' and set 'Yes' to 'Tally.NET User'  Set 'Status' to 'Active' or set as per your requirement.
An automatic email from tally would have been sent to the user if the user account is created for the first time, along with a default password. A sample of the email is mentioned below.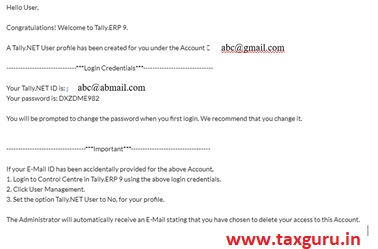 Now the "Remote User" account is activated. The remote user will have to download Tally ERP 9, and in the "Gateway of Tally" Login as "Remote User".
Enter the Remote username (email ID) and the password sent by Tally on email. If the remote user is logging in for the first time, Tally would prompt for changing the default password.
Now the remote user has account activated. However, the "Company" or client is yet to be assigned to him or her.
Assigning Client to Remote User
To assign access to a specific Company, in the Server System, access has to be enabled to the specific "Company" or "companies" which the remote user intends to have access.
In Gate way of Tally, Chose Company Info and Chose "Alter" Company.
Enable Security Control for the Company in Tally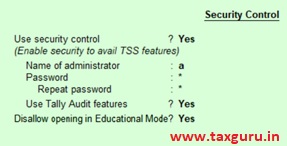 Once enabled, in the "Alter" Company option, Click on "Security Control" and choose "Users and Passwords"
Enter the email ID of tally.net user, for which account has been created. Set 'Yes' to 'Allow to Connect Company', Set 'Yes' to both 'Enable SMS Access' and 'SMS Company Name' and "Browser Access"

At the Security Level, you can choose Tally.Net User (limited access) or Tally.Net Owner or Tally.Net Auditor (for unlimited access).
Further access restrictions can also be enabled for each of the user by clicking on the subsequent menu :
On completion, in the Gateway of Tally, the Company has to be "Connected" Key board shortcut F4. The remote user can now access the company on remote.
To view in Browser (Laptop / Mobile / iPhone):
Visit https://tallysolutions.com/ and click on Log In on the Top Right Corner.
Once the user logs in the list of companies which he / she has access appears
In the left corner, click on Reports and chose any of the below mentioned reports
Once the report is chosen, chose the date range for which you want the report to be displayed or downloaded.

Download option in available as PDF.
Remote Audit using Tally
Audit of client data can also be performed using the above-mentioned steps, even if the data is at the client premises. In addition, the Auditor can consider using the "Audit & Compliance" Option from the Gateway of Tally.
Click on "Audit & Compliance" and explore the various options.
Audit & Analysis has various powerful functions which can used for audit, such as verification of chart of accounts, relative size factor etc. This acts like a Data analytics module of Tally
Tally Remote FAQs
How many Tally.NET users can be created for single user and multi user licenses?

Single user license – one Tally.NET user
Multi user license – 10 Tally.NET users
Tally Server – 10 + 50 concurrent users
What is the recommended bandwidth?

Min 1 mbps internet is required
What are the overall access restrictions?

NET user will have Data entry access rights.
NET Owner and Tally.NET auditor will have access to all the additions and modifications like an administrator except company alteration.
Should tally be always on in the server end?

Yes, system should always be switched on and company on Tally should be always connected.
How to set up Tally on VPN? What is the advantage / disadvantage?

Tally is not recommend VPN
Will TDL also work? If I am using any Tally addon to import data, will it work on remote?

Yes Addons and local TDLs will work. If it is allowed – Allow Local TDL next to Allow Remote Access and Allow Browser Access in the Users and Passwords under Security control.
Do I have to migrate the data in Tally before using tally 6.6?

Migration of Data not required.
Should Tally be on throughout the period?

Yes, Tally and the company has to be switched on through out the period.
Alternative Options
Purchase Tally on Rental Option for a few months
Microsoft Windows Remote Desk / Zoho Assist / AnyDesk can be used to access Tally
Install Firewall & VPN License (Ex: Fortigate)

Internet Connection with Static / Public IP (speak to ISP)
Cost starting from INR 25,000

Tally 30-day free ERP pack be availed
References:
Video on How to use Tally on Remote and for Audit: https://youtu.be/yWxsPlWbhmc.
Detailed Guide: http://mirror.tallysolutions.com/Downloads/TallyTips/RemoteAccessinTally.ERP9.pdf
Tally FAQs https://help.tallysolutions.com/article/faqs/all_releases/remote-access-faq.htm