ITC not available on Air Conditioning and Cooling System by applying the Test of Permanency
In M/s. Wago Private Limited, [Advance Ruling No. GUJ/GAAR/R/33/2021dated July 30, 2021], M/s. Wago Private Limited (the Applicant) in process of establishing new factory has sought an Advance Ruling on applicability of Input Tax Credit (ITC) on various assets for their installation and commission in the factory under provisions of Section 16 and 17 of the Central Goods and Services Act, 2017 (CGST Act).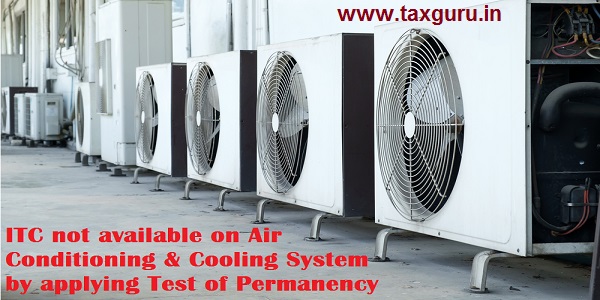 The Hon'ble Gujarat Authority of Advance Ruling (GAAR) rejecting the Applicant's contention of central air conditioning system being a machine and evaluating the nature of supply of air-conditioning (AC) and cooling system observed that "All the different parts of 'Air conditioning and cooling system' after being fitted in the building lose their identity as machines or parts of machines and become a system, namely Air conditioning and cooling system. This AC System is in the nature of a system and not a machine as a whole. It comes into existence only by assembly and connection of various components and parts."
Further, by applying the "Test of Permanency", placed reliance on the case Municipal Corporation of Greater Bombay & Ors. V. Indian Oil Corporation Ltd. [199 Suppl. SCC 18], it is held that AC being a system cannot be transported and shifted from one place to another. The shifting is done only by dismantling the plant. It involves transfer of property since after its installation in the building, it is transferred to the building owner. Therefore, it cannot be considered as a movable property.
Noted that Input Tax Credit ("ITC") shall not be available on Air Conditioning and Cooling Ventilation System because of the same being covered under blocked credit in Section 17(5)(c) of the CGST Act.