CA Atul Modani
The GST Website, GSTN Portal gst.gov.in is expecting errors since today morning and is down consistently resulting in users not able to file GSTR 3B , make payments. Notable that tomorrow is the last date of filing GSTR 3B for the month of July 2017. Various Users across India are consistently updating about the error and outage of the GSTN Portal. Ministry of Finance & CBEC is also having weekend holidays until tomorrow.
Users are also getting various errors related to payment and adjustment of liability as is updated across social media forums meant to discuss update regarding taxation, legal matter.
Following are the screenshots of the errors users are experiencing.
VARIOUS WEBSITES ARE ALSO CONFIRMING THAT GSTN PORTAL IS DOWN
THIS IS THE AGE OF TECHNOLOGICAL ADVANCEMENT, ALERT CITIZENS COME TO SOCIAL MEDIA TO LODGE THEIR GRIEVANCES OF LEGAL IMPORTANCE
Many Twitter users conveyed the crashing of GSTN Portal issue to Twitter Handles since today morning,
There are numerous tweets however all cannot be shared as the page and article gets bulky.
Irrespective of above tweets, the Official twitter handle for IT related queries on GST has not tweeted anything or replied to queries over Crashing of its website.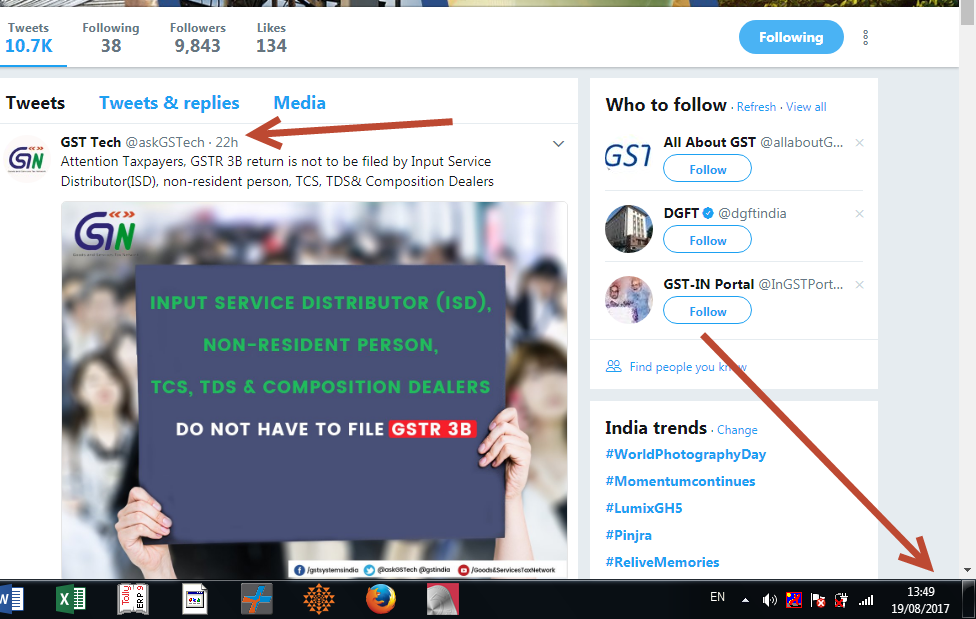 Same thing happened with Income Tax E Filing Website for over a week before the due date, however none from Finance Ministry or CBDT took cognizance of same except at last moment extending the due date and blaming Taxpayers for fault of last minute rush rather than looking into own house for errors and improvement.
Bureaucrats sitting in plush offices needs to be aware of ground realities and grievances of taxpayers rather than just focusing on achieving Targets of Tax Collection and in the process TARGETING the taxpayers. EARLIER THE BETTER.
Users can lodge grievance with higher authorities for service related issues of GST. I have already written how to do it, Find it here  https://taxguru.in/goods-and-service-tax/how-lodge-gst-related-complains-with-higher-authorities.html
Jay Hind.
The Author can be reached at atul@caclub.in