Tax season 2020 is largely over, but taxes will never go away! If you somehow managed to struggle through your tax refund or tax return filing in 2020 and come out unscathed on the other side, you know the pain of prepping your tax forms, putting together invoices and bills, filling out myriad forms, and filing the documents online or through your accountant.
Here are some tips to help you through that process next year when the taxman comes again, as he most certainly will! The software application in focus here is PDFelement, an award-winning PDF editor that can help you go virtually paperless when tax season comes around again. These tips will save you a ton of time and make sure you're prepared with everything you need for your next tax refund or tax return filing. The process differs from country to country, of course, but the underlying elements are the same: Compile, Prepare, File.
Using PDFelement to Ease your Tax Prep Burden
The first step – compile – is the simplest but it usually takes the longest amount of time. Getting together all your paper invoices and receipts and combining them with their digital cousins can take up the better part of a day, if not longer. In addition, you might have forms that are in different formats, which means you'll need that many tools to fill them all out. Using various functions in PDFelement, you can do this much quicker than any other way.
Convert All Paper and Digital Documents and Forms into PDF
This is a four-stage approach that involves converting physical and digital documents into the same format – PDF – and then putting it all together in an organized manner. Here goes:
Step 1: Convert Physical Documents into PDF
One option here is to take photos of all your documents and use PDFelement's text recognition or OCR feature to convert them into searchable or editable PDFs. Alternatively, you can use a scanner and directly scan your paper trail into PDF format.
Using a Camera or Smartphone:
1. Take clear pictures of all physical documents.
2. Next, download and enable the OCR plugin for PDFelement Pro.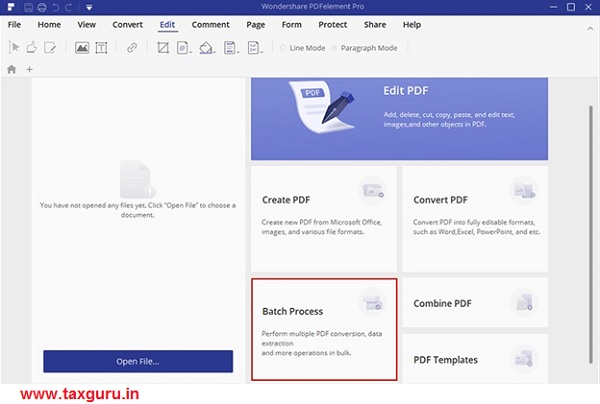 3. Now, use the Batch Process option to convert all your photos into PDF files. The Batch Process feature can be found in the main welcome screen when you launch PDFelement.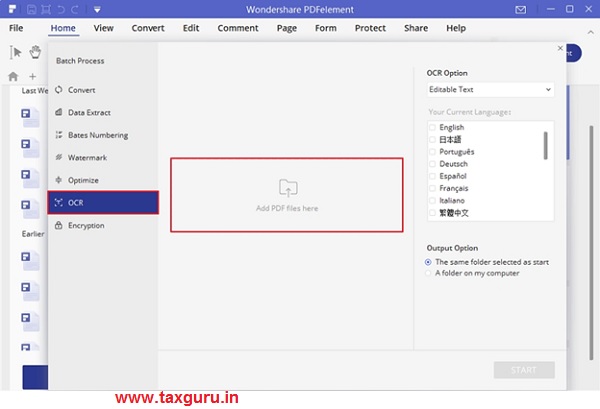 4. Your files will be saved in the same location.
Using a Scanner:
1. In PDFelement, go to the Home tab and click 'From Scanner'.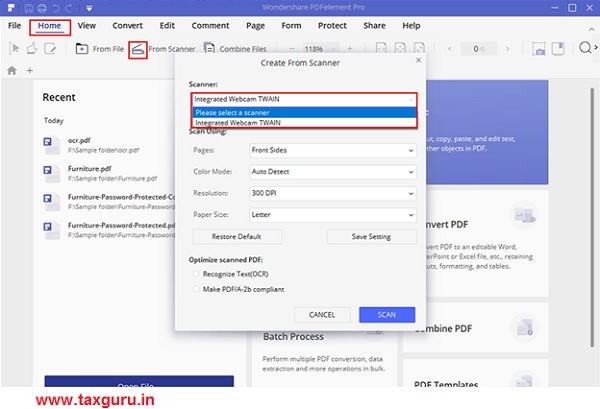 2. In the pop-up window, select your scanner hardware and leave the default settings as they are.
3. Click Scan and start processing your files.
4. They will be automatically saved as PDFs.
5. If you want to make them editable, you can use the OCR function as shown above.
Step 2: Convert Digital Files into PDF
You'll have a lot of files in Word, Excel, and possibly other formats as well. To make things simpler, convert all of them into PDF documents so they can be merged with your converted physical documents in the next step.
All you need to do is hit the Create button in the PDFelement welcome page or simply drag your Word and Excel files and drop them into the software window.
Make sure you save everything in the same folder so you stay organized. Now for the next step.
Step 3: Combining Everything into a Single PDF
The final step is a real time-saver. It essentially allows you to merge all the PDFs you created into one large document and then organize the pages to put them in the correct order.
1. Go to the Home tab of PDFelement and click the Combine Files button in the toolbar below it.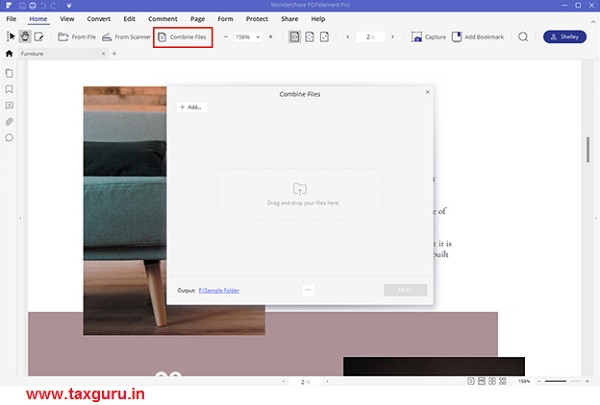 2. Next, click the Add button in the new window and select all the PDF documents from your local folder.
3. Click the Next button to put them all together.
Step 4: Organizing your PDF
You will now have a fairly large file that contains all of your documentation in one place. One step is left – to put them in the right order.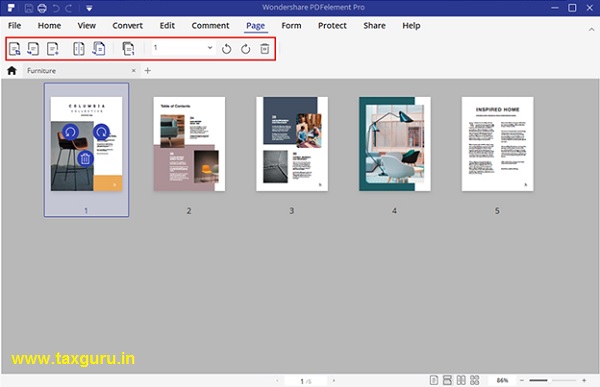 For this step, you can use the thumbnail view in PDFelement to see all the pages in a grid format. All you have to do is select the one you want to move and drag it to the correct position.
Tip: Speak to your account and ask them what order is best. Some prefer a chronological sequence, while some may want them grouped by type, such as electricity bills, fuel bills together, rent bills, purchase receipts, and so on.
Filling PDF Forms
The next big tax season chore is to fill out all the forms you are required to. Even if you have hard-copy forms, PDFelement can help you digitize them and convert them into fillable PDFs. That way, you can finish converting all of them together and then fill them out as time permits.
PDFelement offers a feature called Form Recognition. This function essentially converts printable (non-editable) forms into electronically fillable PDF forms. All you have to do is open the form in PDFelement and click the Form Recognition option in the Form tab. PDFelement will do the rest for you. Just save the file once it is converted.
Form filling is also very easy. PDFelement will automatically detect form fields and prompt you to highlight them so the form is easier to fill. Click Highlight Fields to enable the feature, and when you don't need it, just click Disable Highlight in the notification bar on top.
Finally, you can create or upload a digital signature to add to your tax forms. Go to the Protect tab and click the Sign Document button. Follow the instruction to add your digital signature to the document.
Once you're done, you can zip all the files into a compressed file and send it off to your accountant. If you're self-filing, just upload them to the specified e-filing website hosted by the revenue and income tax department.
Summary
Tax season can be a hectic time of year, but it doesn't have to be. With the rich features of PDFelement at your disposal, filing your ITR or tax refund is no longer a time-consuming process that drains all your energy. PDFelement makes tax season easy and helps get rid of all that tension that sets in at the same time every year.