#AD
With a hike in traders offering training to deal with the Indian stock market, there have been noticeable pitfalls and profits in the business. As many enter the stock market with the intent to reap investment returns but have no prior knowledge or capital, traders turned mentors make use of this as the driving force to market their stock trading course. 
However, just like the two sides of a coin, you must know that these courses have both the good and ugly sides. Let's take a closer look at it.
The Red Flags to Look Out for:
Since the training business of the Indian stock market is still hugely fragmented and disorganised, it is going to take some time before a properly regulated body is established. Before you opt for a training course, you need to be wary of several things. They are as follows:
1. Means to Diversify – Many traders work full-time and trade only part-time. Unfortunately, when some of these traders turn into mentors, it is only a part of their diversifying strategy. You can search up any freely available videos of the trainers you're willing to learn under and get an idea whether they're suitable for you.
2. No Regulations Mandated by SEBI – Securities and Exchange Board of India (SEBI) is the regulatory body that oversees the commodity and securities market. When illegal trade is made, or order needs to be maintained, the SEBI steps in and takes charge. SEBI's lack of protocols and guidelines also needs to be considered. 
Indian stock market trainers do not require any form of infrastructure or licence to get started. However, according to SEBI regulations, serious trainers need to have a research advisory licence.
3. Fake Profit Statements and High Discounts – Several individuals circulate fake profit and loss statements to offer tips and services. You must steer clear from any courses of individuals providing steep discounts.
4. Outperforming A Losing Market – Another critical point to keep in mind is that no one can consistently perform well and make money, especially during a losing market. The market's volatility speaks volumes of how it is impossible only to make profits. Vijay Kedia, a veteran investor, once famously said, "Only two people can buy at the bottom and sell at the top—One is God, and the other is a liar."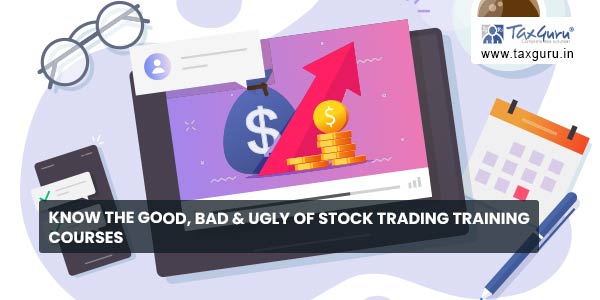 5. Gimmicks and Students Promoting – Several trainers gimmicks and ask their trainees to market their programs. It is best advised to read up on the reviews posted on the course and the trainer you're interested in.
6. Shady Telegram Groups – Many trainers even utilise the Telegram platform to discuss finance-related issues. They may ask their students to sell or buy stocks shared in such Telegram groups after completing the course. However, the group operator orchestrates the entire trade in such a way that: 
a. They reap profits and share how well their stock picks and students performed.
b. This helps in recruiting more trainees. 
The Bright Side – Sharekhan's Stock Trading Course:
In the aftermath of the pandemic, many entered the Indian stock market for the first time. The business after March 2020 has shown phenomenal growth. Sharekhan's ROAR is a specialised stock trading course that gets you started in the capital markets. 
By enrolling yourself into ROAR, you can enjoy the following benefits:
Intensive Yet Short Courses –

Sharekhan understands the value of your time and thus provides various courses that are most compatible with you. Sharekhan's ROAR is a 90-day intensive solution that lets you in on stock market fundamentals, analysing and trading different capital market instruments, and managing personal finance.

Tailored Products and Solutions –

Educational content available on Sharekhan's platform is customised to suit your needs. You can let the experts know your preferences and requirements, and they will recommend a

stock trading course

accordingly.

Expert-led Courses –

Sharekhan offers you various courses keeping in mind your preferences and assigns experts with over 20 years of experience in the field to guide you. 

100% Online Courses –

Every course available on Sharekhan is teacher-led and conducted online. This saves you the hassle and offers you an organised schedule.
The Bottom Line
The stock market offers you various opportunities to grow your money. You can invest or trade at your convenience. With online trading, you can now trade and invest without any hassle. Remember that the market keeps on fluctuating. And to handle it, you'd need several different strategies under your belt. All you need to do is conduct proper research and be ready to take calculated risks.
For guidance, you can look into Sharekhan's ROAR. It is a program of 90 days that is designed to boost you into the stock world. The program pairs you with a manager who comprehends your expectations and needs. To learn more or get started with Sharekhan's ROAR.