Stay Home and stay healthy my readers, it is one of the perfect time to utilize our time on improving and growing our knowledge.
A company throughout its operations need ample amount of cash inflows. Generally, there are two ways to raise capital first is borrowed fund and second is owned fund.
Borrowed fund comes with an obligation to pay at a definite period of time and is liability of company. However owned fund is more safe no obligation to pay and is shown under Share capital or owned fund of company under the balance sheet's asset size. Coming to the topic, right issue is one of the best method used by companies to infuse capital in company with minimum requirements and hassle under the owned fund. Now let us go through its important aspects of right issue by a company. I have penned this article in question and answer way, so that readers can get most of it in simple way.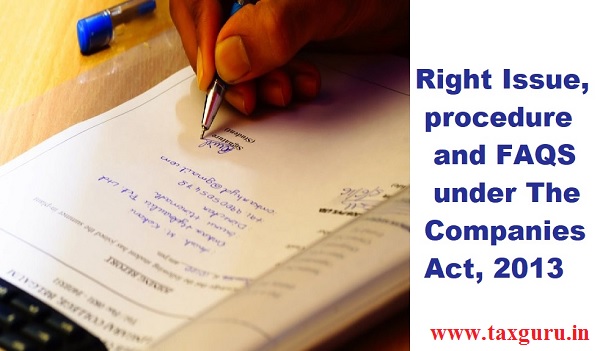 1. What is right issue?
A rights issue is an invitation to existing shareholders to purchase additional new shares in the company. This type of issue gives existing shareholders securities called rights.
For example, 1:4 rights issue means an existing investor can buy one extra share for every four shares already held by him/her. Usually the price at which the new shares are issued by way of rights issue is less than the prevailing market price of the stock, i.e. the shares are offered at a discount.
There are rights of renounce are also attached with right issue. An existing shareholder can renounce its shares and then company is free to allot or not to any other person who may or may be not be an existing shareholder of company.
2. What section governs right issue?
As we already know that a company is governed by the Companies Act, 2013, section 62 of the same act governs the right issue aspects.
However, note that a listed company needs to follow procedure and provision of section 62 of the Companies Act, 2013 along with Securities Exchange Board of India (SEBI) (Issue of Capital and Disclosure Requirements (ICDR) Regulations, 2009, as amended from time to time.
3. Which companies can go for right issue?
Any company can go for right issue be a private company, public, listed or unlisted company.
If one talks about right issue which is governed by section 62 of the Companies Act, 2013 read with rule 13 of The Companies (Share Capital and Debentures) Rules, 2014 the word "shares or other securities" means equity shares, fully convertible debentures, partly convertible debentures or any other securities, which would be convertible into or exchanged with equity shares at a later date.
5. Why a company issue right issue?
The basic idea is to raise fresh capital. A rights issue is not a common practise that a corporate organisation resort to. Ideally, such an issue occurs when a company needs funds for corporate expansion or a large takeover. At the same time, however, companies also use rights issue to prevent themselves from being conked out.
Since a rights issue results in higher equity base for the organisation, it also provides it with better leveraging opportunities.
Right are generally availed by small companies where the power of shareholding retains with the shareholders of company.
6. What is the procedure for right issue?
The procedure for right issue is as follows:-
1. Company will decide the cut-off date and prepare Draft Offer of Letter.
2. Issue Notice of Board Meeting to all the directors of company at least 7 days before the date of Board Meeting along with Agenda and Notes of Agenda along with Agenda.
3. Hold the Board Meeting
4. Identify the Shareholders to whom you will issue shares.
5. Pass Board Resolution for approval of offer letter.
6. Sending of Letter of offer through registered post or speed post or through electronic mode to all the existing share holders
7. Offer will be open at least after 3 days of issue of letter of offer.
8. Offer will be open for minimum 15 days or maximum for 30 days.
9. File MGT-14 with Registrar within 30 days of passing of Board Resolution.
10. Receive the Money from the Shareholders.
11. Convene the Board meeting after the application money is received along with agenda and notes to agenda.
12. Passing of Board resolution for allotment of shares.
13. File PAS-3 with Registrar of Company within thirty (30) days.
14. Issue Share Certificate.
7. Which forms are involved in right issue?
Only one (1) forms are filled to the Registrar of Companies (ROC) i.e. PAS-3 that too within thirty (30) days from the Board resolution passed for allotment of shares.
One need to note that, If a company issue Debenture or take loan with the condition to convert such loan and debenture into Shares in future then company has to pass a Special Resolution at the time of accepting of Loan and issue of Debentures, then form MGT-14 for submission of Special Resolution with ROC along with attachment of terms for conversion. Also, no need to follow the procedure of section 62 if the authorised capital is increased through conversion.
8. What is the penalty of a company fails to adhere by provisions of right issue?
If any company and directors fails to adhere with provision of right issue, there is no direct penal provision are given the governed provision however, the general section for Punishment Where No Specific Penalty or Punishment is Provided under the Companies Act, 2013, If a company or any officer of a company or any other person contravenes any of the provisions of this Act or the rules made thereunder, or any condition, limitation or restriction subject to which any approval, sanction, consent, confirmation, recognition, direction or exemption in relation to any matter has been accorded, given or granted, and for which no penalty or punishment is provided elsewhere in this Act, the company and every officer of the company who is in default or such other person shall be punishable with fine which may extend to ten thousand rupees, and where the contravention is continuing one, with a further fine which may extend to one thousand rupees for every day after the first during which the contravention continues.
Disclaimer: – The above article is prepared keeping in mind all the important and basic question as well as provision of section 62 of the Companies Act, 2013 which comes in mind of a professional or other stakeholder while opting for right issue in company, The author has tried to cover all the important and basic question. Under no circumstance, the author shall not liable for any direct, indirect, special or incidental damage resulting from, arising out of or in connection with the use of the information.
(The Author is Corporate Consultant and provides varied array of services including Start-ups mentor, Secretarial, Legal, Trademark, taxation, Audit, GST, Book keeping and other ancillary advisory service in Delhi, Chandigarh as well as The National Capital Region (NCR) and can be contacted through email id:- [email protected] and Contact Number: 91-8178515005)