As we all are aware that online E Com portal for filing of MEIS, SEIS, ROSL and ROSCTL scheme was not working for a long which was activated and an end date was provided to claim all such pending authorization upto 31 December 2021.
Although, MEIS application for the period September to December 2020 was disabled stating budget allocated for the given period was fully utilised.
Many promotion councils and export bodies represented the matter with Director General of Foreign Trade (DGFT) and considering the demand of industry, DGFT has issued Notification No. 48/2015-20 dated 31 December 2021 to extend last date for submitting application for scrip based FTP schemes from 31 December 2021 to 31 January 2022.
We have encapsulated details from notification for your quick reference and action: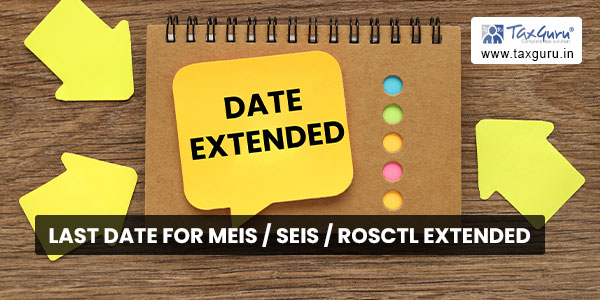 Below application can be filed till 31 January 2022:
MEIS (for exports made in the period between 1 July 2018 to 31 December 2020)
SEIS (for services exports rendered for FY 2018-19 and 2019-20)
2% additional ad hoc incentives (incentive under para 3.25 of the FTP for exports made in period 1 January 2020 to 31 March 2020 only)
ROSCTL (for the exports made from 7 March 2019 to 31 December 2020)
ROSL (for exports made upto 6th March 2019)
AFTER 31 JANUARY 2022, NO FURTHER APPLICATIONS WOULD BE ALLOWED TO BE SUBMITTED AND THEY WOULD BECOME TIME BARRED. LATE CUT PROVISIONS SHALL ALSO NOT BE AVAILABLE FOR SUBMITTING CLAIMS AT A LATER DATE.
In suppression of existing late cut provisions, new late cut provisions for application submitted upto 31 January 2022 (as stated below) shall apply:
Sr No. Scheme Period of Exports Late Cut
1. MEIS FY 2018-19 (01.07.2018 to 31.03.2019) 10%
2. MEIS FY 2019-20 and FY 2020-21 (upto 31.12.2020) Nil3 SEIS FY 2018-19 5%
4. SEIS FY 2019-20 Nil
5. ROSCTL 07.03.2019 to 31.12.2020 Nil
6. ROSL Upto 06.03.2019 Nil
Lets hope that in line with this notification, portal starts application for the much awaited period, Sept to December 2020.