Representation to Extend ITR  Due date for filing Income Tax Return u/s 139(1) for the assessee not required to get the books of accounts audited for the Assessment Year 2022-23 should be extended at least up to 31st August,  2022 at earliest by All Gujarat Federation of Tax Consultants (AGFTC) and Income Tax Bar Association. 
ALL GUJARAT FEDERATION OF TAX CONSULTANTS
303, B wing, Pratyaksh Kar Bhavan,
Nr. Panjrapole, Ambawadi, Ahmedabad-380 015
Ph.: +91 99783 90284
e-mail: sec.agftc@gmai.com
website: www.agftc.in
INCOME TAX BAR ASSOCIATION, AHMEDABAD
Room No. 40, Aayakar Bhavan,
Navrangpura, Ahmedabad – 380 009
Ph.: +91 85119 95588, 079 4801 1947
e-mail: itbarassociation@gmail.com
website: www.incometaxbar.org
22nd July, 2022
To,
HON'BLE SMT. NIRMALA SITHARAMAN,
Union Minister of Finance,
Government of India
North Block, New Delhi – 110001
To,
SHRI TARUN BAJAJ
Revenue Secretary,
Ministry of Finance,
North Block, New Delhi – 110001
To,
SHRI NITIN GUPTA
Chairman, Central Board of Direct Taxes,
North Block, New Delhi – 110001
Respected Ma'am / Sir,
SUBJECT: REPRESENTATION IN RESPECT TO DUE DATE FOR FILING INCOME TAX RETURNS (FOR NON-AUDIT CASES)
Greetings from the All Gujarat Federation of Tax Consultants and the Income Tax Bar Association, Ahmedabad.
All Gujarat Federation of Tax Consultants (AGFTC) established in the year 1992, is the first & only Apex Regional Body of Advocates, Chartered Accountants & Tax Practitioners of Gujarat, having membership strength of 1500 professionals and Institutional membership of 34 from all the Districts of Gujarat.
Income Tax Bar Association is one of the first and oldest professional associations established in the year 1947, and composed of tax professionals, Advocates & Chartered Accountants as members, with membership strength of approx. 1000 from all over Gujarat.
The prime objective of both these Associations is not only to work for the cause of its professionals but also to educate the public at large and to act as a catalyst between Citizens & Government Authorities.
AGFTC regularly organizes seminars, lectures on tax advocacy and legal awareness in Mofussil regions across Gujarat.
Due Date u/s 139(1)
We wish to bring to your notice that for the assessee, who is not required to get the books of accounts audited are required to file their return of income tax u/s 139(1) for which the due date for filing is 31st July every year. The due date is important for multiple criteria such as carry forward of losses and avoid late filing fees.
Substantial Increase in Assessee base
Over the years, the reporting requirements and compliances under the Income Tax Act has increased substantially and the dependence on the data populated through third party compliances like TDS / TCS and multiple types of SFT is increasing. With increase in limit of turnover for audit u/s 44AB up to Rs. 10 Cr., the number of assessee, who are required to file the return of Income Tax by 31st July has increased than before.
You will appreciate the fact that for all these assessee, the compliance burden has not reduced and even when tax audit report u/s 44AB is not required, while filing the income tax return, reporting under various sections such as 43B, 269SS, 269T, 269ST, 40A(2)(b) etc., adjustments due to ICDS and disallowance of expenses due to applicability of the provisions of TDS / TCS under various sections is equally applicable and it requires professional assistance, thorough review of books of accounts and preparation of financial statements in accordance with various applicable standards and provisions.
Automated Processing & Reliance upon Auto Populated Data
After e-filing started from AY 2007-08, dependence on information technology tools for automated processing of the Income Tax Returns are increasing year after year. At the Centralized Processing Centre, the Income Tax Returns are processed based on the filing details and verification of the same with 26AS, Audit Reports & other parameters. With introduction of new Income Tax Portal from last year, the aim of Government is also focussed on auto populated data and quick processing of Income Tax Returns with help of third-party data generated from TDS / TCS & SFT.
It needs to be noted that the due dates for filing TDS returns is 31st May every year. With the TDS / TCS provisions on so many transactions, most of the assessee have TDS / TCS credit which needs to be claimed in the Income Tax Return, which also needs to be claimed based on TDS / TCS certificates issued from TRACES and matching with 26AS, as CPC will not allow TDS / TCS credit which do not reflect in 26AS.
Same goes with SFT where various transactions keep updating in AIS / TIS till the end of the month of June.
It must be noted that this is not related to only small and medium businesses who are not able to update details related to TDS / TCS and SFT in time. There are many large and listed corporates, NBFCs and even Banks who file data late, which makes it really difficult for taxpayers to determine actual tax liability and tax credits.
Due to this reason, the actual possibility for filing the Income Tax Return  starts only after 10th June, which effectively leaves 50 days including weekends and holidays up to due date 31st July.
Detailed Reporting
The Income Tax Returns require lot of data as compared to earlier. Capital Gain requires extra efforts to report due to grandfathering, ISIN reporting etc. The formats of Financial Statements for non-corporate business entities are changed recently. Even dividend needs to be bifurcated in 5 parts for calculation of interest u/s 234B & C. Reporting all details correctly requires much more time than before. An average Income Tax Return preparation takes almost 1.5 times more time than two years back is what most of the tax professionals would agree.
Technological Hurdles with new Income Tax Portal
With introduction of new Income Tax Portal last year, there are always new technological issues popping up every now and then. The support from the support team is not timely and at times the proper solution is not provided.
Reported Issues with IP Address: It is evident from public domain and social media handles like twitter, where this year many tax professionals and taxpayers' complaining about portal not accessible for multiple days. The support team was almost useless and kept claiming that the Portal was working fine. The confusion was added when many people could access the portal and others could not. It was not the support team but the users who came out with a conclusion that the portal was accessible with only few Internet Service Providers and for many Internet Service Providers it worked with change in IP address only. Now this is very technical issue and not possible for an average user to understand.
Utilities & Schema: Every year, there are lot of changes in the forms of Income Tax Returns. The utilities and schema are not released on time. A lot of tax professionals depend upon third party software providers
who require schema to set all validations for generation of .JSON file for Income Tax Return. Even when forms are released by the CBDT at the start of the year, these utilities and schema keep changing every few days. The filer must verify that he / she is using the latest utility or schema to ensure successful filing.
It must be brought to your kind attention that for AY 2022-23, the utility for ITR-5 was released on 13th July, 2022, which is quite late and leaving almost no breathing space considering the due date of 31st July.
Extension of Due Date is need of Hour
Filing true and proper details in Income Tax Return is very crucial. Missing to report something may attract future litigation and penal provisions. When everyone has a multiple source of income and transactions to report, having such short time to file return is not justified.s
With increased taxpayers base overall and with liberal provisions to enable ease of doing business by the government where tax audit limit is increased to 10 Cr. there is a substantial increase in the numbers of assessee who require to file their Income Tax Returns before 31st July. In such case, considering issues of delayed release of utility every year and dependency on third party reporting of data & taxes as already mentioned earlier, the current due date of 31st July seems impractical and gives very short time span to comply.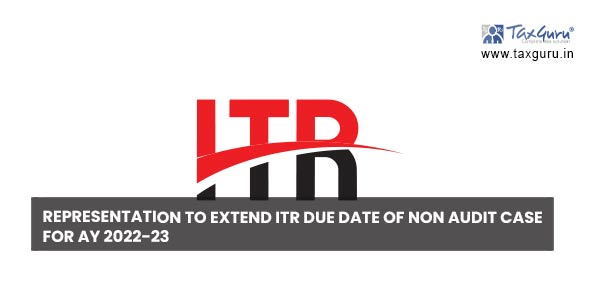 Request for Extension
It is our humble request that considering all the points as mentioned above, the due date for filing Income Tax Return u/s 139(1) for the assessee not required to get the books of accounts audited for the Assessment Year 2022-23 should be extended at least up to 31st August,  2022 at earliest.
Also, we request you to consider the points as mentioned above and in the light of that, the CBDT and the Government should change the due date u/s 139(1) for the assessee not required to get the books of accounts audited to 31st August for all the upcoming years as a proactive taxpayer friendly measure. That will surely send positive vibes amongst all the taxpayers and fraternity of tax professionals.
We assure all out support and co-operation in guiding the taxpayers in fulfilling their compliance obligations required by law and being the connecting link between the taxpayers and the Government.
Yours Truly,
For and behalf of
ALL GUJARAT FEDERATION OF TAX CONSULTANTS
Adv. Hiren R. Vakil President
Balmukund   N. Shah
Hon. Secretary
Adv. Dhiresh T. Shah
Chairman: Representation Committee
INCOME TAX BAR ASSOCIATION
| | | |
| --- | --- | --- |
| Dhruvin D. Mehta President | CA Shridhar Shah Hon. Secretary | Adv. Dhruven V. Shah Chairman: Representation Committee |
CC:
To,
Hon'ble Pr. Chief Commissioner of Income Tax, Gujarat
Aaykar Bhavan, Income Tax, Navrangpura, Ahmedabad-380009
Representation on Income Tax Return due Date Extension