Facing problem in revising the TDS return; here is the procedure how to file TDS revised return
Overview
-Request for conso file from Traces Portal.
-Download the conso file & open in utility
-Update the correction in utility.
-Upload on E-filing portal or at TIN-FC (TIN FACILITATION CENTER).
STEP-1
Request for conso file from Traces Portal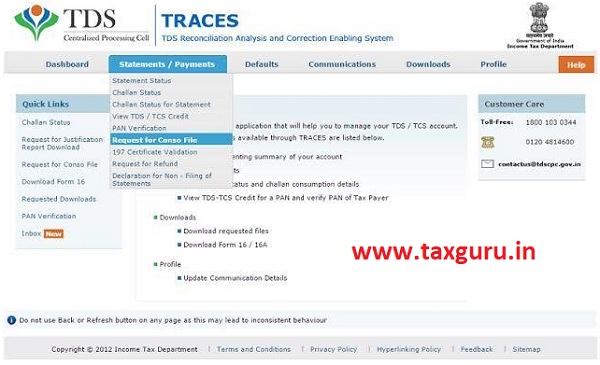 1. Login to traces.
2. After login you can see various tabs on the Home Screen.
3. Go to Statements/Payment tab, Go to request for conso file.
4. After which you have to select the Financial Year, Quarter, & Form for which the return is to be revised.
5. Click on "Go" which will proceed to next page in which fill up the original return token number, challan details & deductee details of the challan details which you have mentioned.
6. And your request for conso file is submitted.
7. To check, Go to download tab, select requested download, view all; you can see their submission of your conso file & the status will show submitted. AFTER A DAY THE STATUS OF YOUR CONSO FILE WILL SHOW AS AVAILABLE.
STEP-2
Download the conso file & open in utility
1. After a day when u login to traces the status of your conso file will show Available.
2. Click on http download given below.
3. When you will extract this zip file, will ask you password. The password to extract your zip file is TAN Number (capital letters) _Request Number. (request number will show in your request download).
4. The extract file will be the.tds file. Open this file in any of your software or RPU utility which is available in tinnsdl.com in download section.
5. Open the RPU utility, select the form for which the conso request was submitted & import the conso file & will be imported successfully.
STEP-3
Update the correction in utility
1. After the successful import of conso file the screen will open with 4 tabs Form/Challan/Annexxure-I (deductee details)/Other services for TIN. (Mainly for correction the first three tabs are important).
2. TAB-1 FORM, which will already shows the basic details filled & for which no changes is required.
3. TAB-2 CHALLAN, you will see that the challan which are already uploaded in original return will show you. This tab contains 23 columns.
4. For e.g: if you want to make correction in any of the challan uploaded which have consumed amount go to Coloumn No. 2 select the update option.
5. Coloumn No. 23 will show u consumed amount of balance for which you can utilise.
6. TAB-3 Annexxure-I (deductee details).
To consume the unconsumed amount in challan you have to add deductee.
At the bottom right you will see the option of add row & will ask you to how much rows are to be added.Add the rows accordingly as how many deductee you want to add.
7. Column No. 2 shows challan serial No., select the challan in which you have to make update (which I have given example as challan no. 2), select the section & update the required details.
8. After you finish, at the bottom you will see the button of create file which will show one pop-menu.
9. The popup will show /ask you to upload 3 files with path which shows as below:
Csi file which you can download from challan status.
Error/upload & Statistics reported file-select path where.fuv & form 27A is to be generated.
Conso file path-select the conso file from traces(which have already downloaded).
10. Now click on generate file. There, your fuv file will be generated if there is no error. If, error generates go to error generated file & solve the error.
STEP-4
Upload in "E-filing" portal
1. Login through TAN in E filing portal.
2. Go the last tab of TDS, select upload TDS and fill the required details and click to proceed.
3. The next will show to enter your original return filed token number and proceed.
4. Then select your fuv file & if your DSC is not registered you can upload with Adhar OTP also.
5. The form 27A generated can be filed at TIN-FC center for those who are not registered at e filing portal.