How can I view my submitted or saved application for refund on the GST Portal?
1. To view your submitted application, navigate to Services >Refunds >My Saved/Filed Applications option.

2. The Saved/Filed Application page is displayed.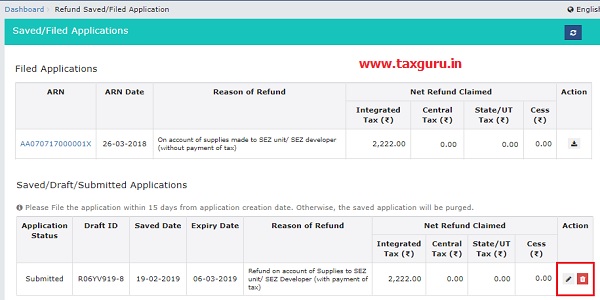 Note:
You can download the ARN receipt by clicking on the ARN hyperlink to take the print out of the ARN Receipt.
You can click the Edit or Delete button to edit or delete the refund application.
****
Disclaimer: The contents of this article are for information purposes only and does not constitute an advice or a legal opinion and are personal views of the author. It is based upon relevant law and/or facts available at that point of time and prepared with due accuracy & reliability. Readers are requested to check and refer relevant provisions of statute, latest judicial pronouncements, circulars, clarifications etc before acting on the basis of the above write up. The possibility of other views on the subject matter cannot be ruled out. By the use of the said information, you agree that Author / TaxGuru is not responsible or liable in any manner for the authenticity, accuracy, completeness, errors or any kind of omissions in this piece of information for any action taken thereof. This is not any kind of advertisement or solicitation of work by a professional.
Source- gst.gov.in